The Costa Rica vs Panama World Cup qualifying match will be this Tuesday, June 18, 2013 (7:00 PM PST) at the Estadio Nacional in San Jose.  Panama visits Costa Rica in the CONCACAF Hexagonal with hopes that a win will keep them in place for a direct ticket into next year's World Cup in Brazil.  Costa Rica is currently in 2nd place of the standings with 8 points, just 2 points behind the leading United States.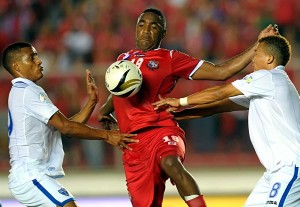 Currently in 5th place with 6 points, Panama is in a position where they require for at least a point on Tuesday night.  With a tie, they could move up to the 4th place above Honduras, while a win could place them in 2nd place.  Panama has been the surprise team in the Hexagonal thus far, as they have kept in the battle against the region's top 4 favorites: Mexico, USA, Costa Rica, and Honduras.  In their past 2 games, Panama tied against Mexico 0-0, and most recently lost against the United States 2-0.
Costa Rica could become a clear World Cup qualifying favorite if they were to defeat Panama at the Nacional stadium.  With a win, they will have the opportunity to move 3 points ahead of the 3rd place team.    In their past game, Costa Rica went into the weakened Estadio Azteca and tied Mexico 0-0.  This is a team that has improved as the qualifiers have passed, and if they keep their good form in place, they should not have a problem in obtaining a direct ticket into Brazil 2014.
Costa Rica vs Panama Prediction
Costa Rica is in a good mood after defeating Honduras and tying Mexico in their past 2 games.  They are in a comfortable position in which another win will put them within 5 points of the  World Cup.  Meanwhile, Panama is urged to win as the 3 points will move them up to the 2nd place; a loss could translate into elimination.  To qualify into the World Cup, a CONCACAF team will need around 16 points.  As of today, Costa Rica needs 8 more with 5 games left, while Panama needs 10 more.
The Costa Rica and Panama game will be in an intense atmosphere with the visitors playing an offensive tactical scheme.  Costa Rica will play calmly, but they also know that they cannot allow points to leave while playing at home.  Tuesday game will be quick paced, but the locals will obtain a crucial win.  The Costa Rica vs Panama match will end 2-1 for the locals.
Costa Rica vs Panama Television
The Costa Rica vs Panama CONCACAF World Cup qualifying match will be televised this Tuesday, June 18, 2013 on beIn Sport at 7:00 PM Pacific.