The second leg of the Xolos vs Atletico Mineiro Copa Libertadores 2013 quarterfinal will take place at the Independencia Stadium in Belo Horizonte, Brazil this Thursday, May 30, 2013 (6:00 PM Pacific). Atletico Mineiro got a positive (if somewhat lucky) result from the first leg at the Estadio Caliente, a 2-2 draw that puts Xolos in an uncomfortable position. If Tijuana wants to play in the Copa Libertadores 2013 semifinals, it must defeat Atletico Mineiro, or draw while scoring 3 or more goals.
The first leg of the Xolos vs Atletico Mineiro quarterfinal was a devastating disappointment for the Tijuana faithful. Xolos played excellent the first 65 minutes of the match, scoring 2 and virtually erasing the best team in the Copa Libertadores 2013 from the field. However, 2 defensive mistakes, including one in the 93rd minute, allowed Mineiro to earn a valuable 2-2 draw.
Xolos was by far the better team at the Estadio Caliente, but committing mistakes against a team as talented as Atletico Mineiro is unforgivable, and Tijuana paid the price, twice. Now, Xolos, after taking a 22 hour flight to Belo Horizonte, must either defeat Mineiro by any score, or draw while scoring at least 3 goals (a 2-2 draw would take the match into overtime).
However, this Tijuana vs Atletico Mineiro series is far from over, there are still 90 minutes left to play, and if there was ever a team that can pull back from a deficit, it's Xolos. Atletico Mineiro knows this, and they are scared. The Mineiro ownership gave Tijuana it's allotted time on the Independencia Stadium pitch this Wednesday night – with the stadium lights off. They are afraid.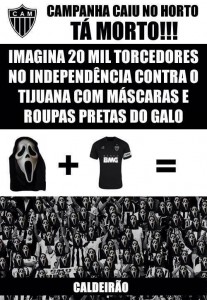 The Mineiro fans are organizing a mass display of "force" for the Xolos vs Atletico Mineiro match. The plan is to get 20,000 fans to wear masks from the movie Scream, in an attempt to scare the Aztec dogs into submission. The idea is getting strong support in social media, even supported on Twitter by Mineiro striker Diego Tardelli. This type of organization and display of "force" by the Galos is unprecedented in the Copa Libertadores 2013. They are afraid.
Sure, Xolos is coming into the Tijuana vs Atletico Mineiro match with a negative result, but that is exactly what they are used to. Tijuana thrives on being the underdog, the team that the media has already declared dead.
When Xolos lost 2-0 to Leon in the first leg of the Apertura 2012 semifinals, everyone (including myself) stated that the Xolos were done for. Well, they came back and earned a 3-0 win at the Estadio Caliente.
In the Apertura 2012 final against Toluca, no one gave them a chance, even after they won the home leg 2-1, it just wasn't enough against a great opponent as Toluca. Well, they came back and defeated Toluca at the Estadio Nemesio Diez, earning a 2-0 victory and the Liga MX title.
In the Copa Libertadores 2013 Round of 16, after Xolos had tied against Palmeiras 0-0 at home, everyone once again declared Xolos was incapable of moving on. The fans and media said defeating a Brazilian team in Brazil was an impossible feat. Palmeiras was getting ready to face Mineiro in the quarterfinals. Well, Xolos once again overcame an "insurmountable" obstacle and became just the third Mexican team to win a Copa Libertadores match in Brazil.
Atletico Mineiro, you should be afraid.
Xolos vs Atletico Mineiro Prediction
It will not be easy. Xolos will face an incredible fan-base that yearns for a Copa Libertadores title. They will face a squad composed of great players like Jo, Tardelli, and the once best player in the world, Ronaldinho. They will face what will likely be a referee in favor of the home team (like the Palmeiras match). They will face a team that hasn't lost at home in the last 12 months. And they will win.
This is El Turco Mohamed's last match with Xolos, and he wants to leave with a bang. Expect El Turco to play his classic 4-3-3 formation, which provides defensive strength and quick attacks through the flanks with Riascos and Martinez. Xolos proved that, if they focus, they can play better than Atletico Mineiro. This match will end the Turco era in Xolos, and his players will give it their all. The Tijuana vs Atletico Mineiro second leg will end with a 2-1 victory for Xolos, which will move on to play Newell's in the semifinals.
Tijuana vs Atletico Mineiro Television
The Xolos vs Atletico Mineiro match will be televised on Thursday, May 30, 2013 (6:00 PM Pacific) on Fox Deportes.