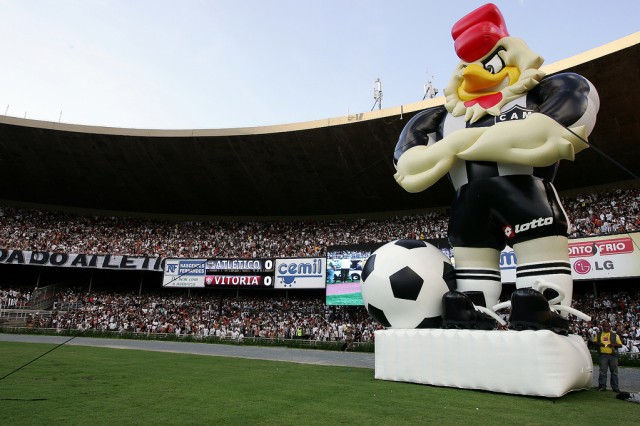 The Xolos vs Atletico Mineiro match was tied 1-1, 3-3 on aggregate, Xolos needed to win to move through to the Copa Libertadores 2013 semifinals. The referee marked a 93rd minute penalty in favor of Xolos- it looked like Xolos was going to continue it's Cinderella run. Duvier Riascos stepped up, shot dead center, and got it blocked by the Mineiro keeper. A heartbreaking loss for the Tijuana Xolos, eliminated by a team they outplayed through 180 minutes.
The Xolos vs Atletico Mineiro quarterfinal series could have gone Xolos' way if they could have avoided two 93rd minute mistakes. In the first leg at the Estadio Caliente, Xolos allowed a scrappy 93rd minute goal that gave Atletico Mineiro the 2-2 draw. Today, at the Independencia Stadium, Riascos' 93rd minute missed penalty sealed Tijuana's elimination from the Copa Libertadores.
Xolos vs Atletico Mineiro – Heartbreaking loss
We had predicted in the first Xolos vs Atletico Mineiro match that Xolos would win 2-1, the late defensive mistake made my prediction wrong. I had also predicted a 2-1 win for Xolos today, the late offensive mistake once again went against me. Tijuana squandered several scoring opportunities through both legs, and, although they played better, it ended it up costing them.
This marked Turco Mohamed's last game with Xolos, and it certainly is a painful way to exit. However, he should be proud of what Xolos did under his command. First saving them from relegation. Winning a Liga MX title (that's pretty special, Xolos was funded just 6 years ago and already won the Liga MX, while Cruz Azul has been painfully waiting for 15 years to get one). Finally, making it to the Xolos vs Atletico Mineiro quarterfinals of the Libertadores, just a couple of inches to the left of moving on through to the semifinals.
In a way, the loss in the Xolos vs Atletico Mineiro match ends the Turco era in Tijuana firmly. Had Xolos won, they would have played the rest of the tournament with a new head coach. Now, Xolos can carefully choose their next coach, and start off with a fresh slate.
Enjoy some more highlights of the Xolos vs Atletico Mineiro missed penalty: