Watch the America 1 – 3 Chivas Highlights and Recap here.
The America vs Chivas match, "el super clasico", the game that millions of fans in Mexico and the USA, both hardcore and casual, tune in to watch no matter what, is finally here. America and Chivas will duke it out on Saturday, October 6, 2012 at 6:00 PM EDT at the magnificent Estadio Azteca. America won its previous match. Chivas won its last match. Both will be looking to get the win. This happens to be a "clasico" where the match actually matters beyond the rivalry: Chivas desperately needs the win to move up into playoffs territory, and America needs the three points to move up near the top of the table to earn a Copa Libertadores berth. Who will win this edition of the America vs Chivas clasico?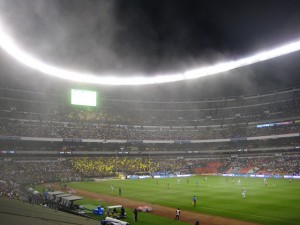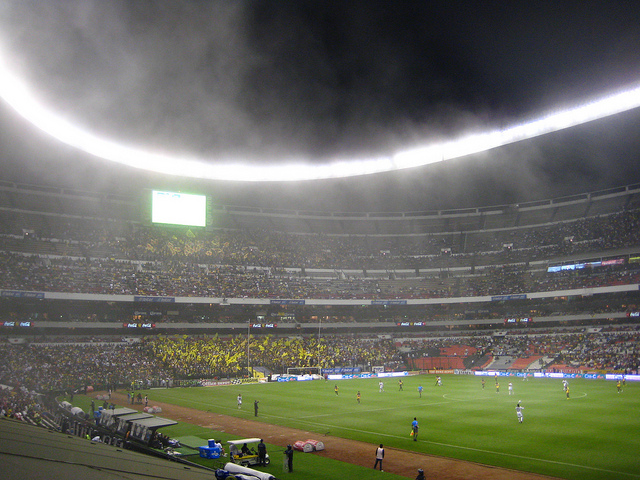 Club America has had a pretty successful season so far, earning 18 points and finding itself in 4th place of the standings, with a strong chance to make an appearance in the postseason. Furthermore, America is one of only three teams that have only lost one match this entire season (the other two being Xolos and Toluca). About the only negative characteristic of this squad is that it has tied six matches, when it could have had the opportunity to turn those into three points instead of one.
Last week against San Luis, Club America demonstrated that they are a team to be reckoned with. Down to 10-men and facing a fiercely defensive team, Club America still surged forward looking for the win. And it got it, thanks to a late goal from Club America leading goal-scorer Christian Benitez. That made it the fifth game in a row without a loss for America (2 wins & 3 draws). They are looking like a strong playoff contender, with a chance to make a deep run.
Chivas' season has not been so great, under Van't Schip's leadership, the Guadalajara based team has earned 13 points, and is currently situated in the 11th spot of the standings. The bad season has been due to several reasons: new coach and new playing style, several injuries to key players, and years of bad ownership. Chivas' main problem is its lack of scoring, with just 9 goals scored in 11 games, third worst in the Liga MX. The team has been inconsistent most of the season, although as of late, it has not played that terribly, and had it not been for two missed penalties, would be placed right in the middle of the playoff spots.
In Week 11, Chivas played its best game of the season, and defeated an always dangerous (well, not as much this season) Tigres squad 2-1. The defense played pretty well, and the offense took advantage of the opportunities and scored the necessary goals. There are also rumors that Marco Fabian will be able to start against America, this would certainly be a huge boost for a team looking to add offensive firepower.
Prediction: The America vs Chivas match will be a great "clasico", both teams legitimately need to win this game not just for the rivalry, but to attain important goals (playoffs and Libertadores). Miguel Herrera will definitely be looking for the win, he hates Chivas and has talked it up this week with the Mexican media. Van't Schip knows that Chivas will have an extremely tough time making it to the playoffs if it doesn't win at el Azteca, he will also be going for the win. Expect to see both teams with attacking formations, and a free-flowing game with plenty of offense. In the end, the America vs Chivas match will have a final score of 3-2, and the winner will be Club America.
Television: The America vs Chivas match will be televised on Saturday, October 6, 2012 at 6:00 PM EDT on Univision and UnivisionDeportes.com (free).