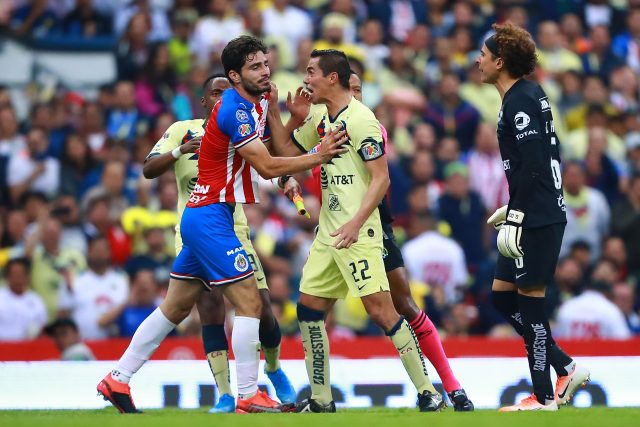 The Chivas Guadalajara vs Club America Liga MX Super Clasico match will be held this Sunday, March 14, 2021, 7:00 PM Pacific, at the Estadio AKRON (Zapopan). Here we will cover the different online live stream and TV channel viewing options for the Chivas Guadalajara vs Club America match.
This match will be televised in Mexico on Azteca 7. If you reside in the United States, this match will be broadcast on the TV channel Telemundo.
You can live stream the match in the USA with Fubo TV which offers new users a 7-day free trial. Fubo is the best option for anyone looking to stream this match on their phone, PC or smart TV.
Chivas Guadalajara vs Club America Live Stream & TV Channel
The Chivas Guadalajara vs Club America 2020 Liga MX match will be broadcast at 7:00 PM Pacific:
TV Channel: Telemundo
Online Live Stream: FuboTV (Watch 7 Days Free)
Chivas Guadalajara News
Chivas Guadalajara are currently in decent form, sitting in 10th place of the Liga MX standings with 12 points earned so far in the season.
They sit in the Repechaje spots, and will need to improve during the rest of the season if they want to at least move up to the Repechaje spots that get to play as the host (spots 5-8). Reaching the top four spots will be a struggle, but it is still something achievable.
Chivas Guadalajara Key Stats
Wins- 2
Ties- 6
Losses- 2
Goals For- 15
Goals Against- 15
Recent Form- D – D – W – D – D
Club America News
On the opposite side, we have Club America in excellent form, with 22 points earned this Liga MX season, enough for 2nd place in the standings.
They sit in the top four spots of the Liga MX, and thus are considered one of the best teams this season. This squad would also have the further benefit of skipping the Repechaje and moving straight into the Quarter-Finals. Of course, the season is not done yet, and they will have to continue fighting for the top 4 spots.
Club America Key Stats
Wins- 7
Ties- 1
Losses- 2
Goals For- 14
Goals Against- 8
Recent Form- W – W – W – L – W
I expect a close encounter where neither side risks too much on the attack, instead focusing on defending. Club America are in fantastic form, but Chivas are playing at home and will not simply give up.
I predict that the match will end in a 1-1 draw. Club America is playing too well to lose here today, but Chivas will not allow itself to lose at home against its arch rival in the Super Clasico.