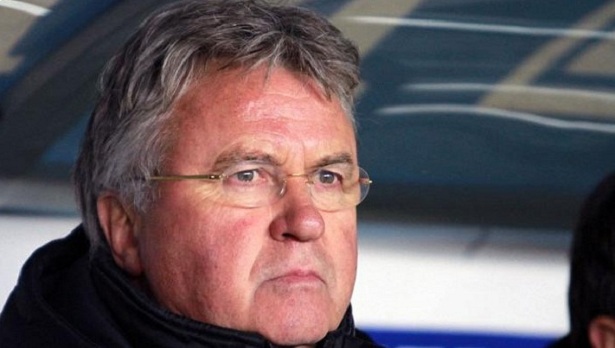 Reflecting on the 3-0 defeat at the hands of Manchester City, Chelsea manager Guus Hiddink, according to Chelseafc.com, noted that although his side was able to create "some half-chances – we didn't create open chances."
Hiddink admitted it was a "bad defeat" but was not overly critical of his team.  He was sure to give plenty of credit to his opponents, saying, "We were playing a very strong team. Manchester City have proven that and it's not for nothing they're in the last four in Europe."
Indeed, an in-form Manchester City is a team to be reckoned with.  Coming out victors over two legs against run-away French Ligue 1 Champions PSG is a substantial feat, to be sure.  And despite the unbecoming scoreline, the Chelsea manager felt his side were nearly their equals.
"'It's a difficult defeat. The 0-3 seems high and is high, but it's not that we were outplayed. It was three smart counter situations. There was not a big, big difference. The defeat is deserved but not so negative that we are now feeling desperate."
Others were not so optimistic, with one viewer going so far as to take offense that the club would have the nerve to even charge for tickets to the match.
Seriously @ChelseaFC You cannot charge people even a small amount of money to watch that.

— Jeremy Clarkson (@JeremyClarkson) April 16, 2016
Without much promise as the contest progressed, many shared the opinion and took off well before the final whistle.
'Stamford Bridge was half empty by the end. A humbling defeat' John Southall on #CFChttps://t.co/B8CluUxRz4

— BBC 5 live Sport (@5liveSport) April 16, 2016
It is clear that with such performances, Chelsea will struggle to keep the interest of their fans, let alone compete with top sides like City.
"There was no lack of fighting spirit but it's difficult when you have intelligent players playing around you. We have to respect the quality of the opponent," Hiddink said.
While the manager certainly worked hard to take positives away from the match, it is difficult to deny that much of the evidence suggests this team is in need of serious improvement.  We can be sure Antonio Conte is watching and already penning his wishlist for owner Roman Abramovich.