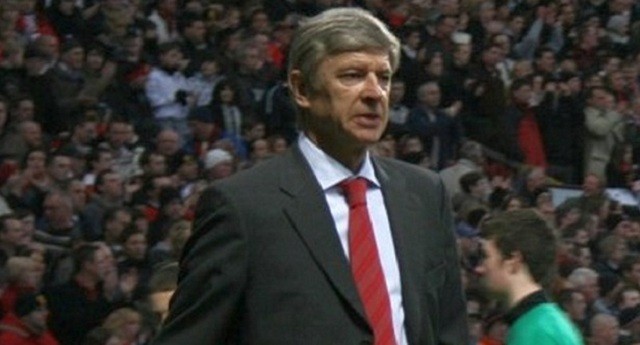 The (almost) annual Emirates Cup is upon us again and Arsenal face Lyon in their first match on Saturday.
Arsenal is on the back of a successful tour of Singapore and came back to London with the Barclays Asia Trophy Singapore after dispatching a Singapore XI 4 -0, and Everton 3 -1.
Arsene Wenger will start two entirely altered lineups this weekend, one on Saturday against Lyon, and the other against Wolfsburg on Sunday. He will likely use Saturday as an opportunity to give his first choice team a run out together before Arsenal faces Chelsea in the Community Shield next Sunday, August 2nd.
Arsenal's tour in Singapore did not give a clear indication of who Wenger's first choice team is as he mixed and matched his squad in both games. Jack Wilshere, Santi Cazorla, and Mesut Özil both looked sharp, as did Chuba Akpom who scored a hat trick against the Singapore XI.
Here is Arsenal's likeliest lineup against Lyon on Saturday.
Goalkeeper – Cech
Petr Cech will be handed his unofficial home debut on Saturday. Cech had a nice game against Everton in Singapore and made one nice save from a looping header in that game and an excellent double save in training in Singapore.
With Wojciech Szczesny seemingly on his way to Roma, we will likely see Emiliano Martinez come on for Cech if Wenger decides to not give Cech a full run out.
Right Back – Bellerin
Right now the first choice right back is a toss up between Hector Bellerin and Mathieu Debuchy but based on last years form the choice goes to Bellerin.
Whoever starts this match at right back is not guaranteed to start against Chelsea the following weekend. That is how close the competition is between these two players.
Center Backs – Gabriel & Koscielny
Wenger may look to transition Per Mertesacker out of the first eleven this season in place of Gabriel. Gabriel is excellent in the air, is spatially aware, and has good recovery speed. Laurent Koscielny, Mertesacker and Gabriel all compliment each other on the field.
Left Back – Monreal
Kieran Gibbs hasn't shown any reason to believe that he has reclaimed his status as the clubs first choice left back. Nacho Monreal is likely to get the start on Saturday because he is more likely to start against Chelsea the following weekend.
Defensive Mid – Ramsey
Conventional wisdom would tell you that Francis Coquelin will start Saturday and against Chelsea next weekend. While he is likely to start against Chelsea, Aaron Ramsey will be played in a deeper and more defensive role on Saturday because Wenger may choose to use Ramsey in this position at certain points of the season.
Ramsey ended a few matches as Arsenal's defensive midfielder last season. With Mikel Arteta and Mathieu Flamini the only other true defensive midfielders in the squad besides Coquelin, Wenger will want to know if Ramsey can provide him another option here so that it allows him to play the likes of Cazorla, Ramsey, Özil, and Wilshere in the same squad.
Central Mid – Cazorla
Özil and Cazorla again proved to have a superior understanding of each other in Singapore and hopefully there understanding will carry over into the upcoming season.
Attacking Mid – Özil
Özil has looked remarkably sharp in both training and in his lone appearance in the Barclay Asia Trophy Singapore against Everton. He scored a well taken goal after being put through by Cazorla, was filmed performing some nifty dribbling/passing tricks in training, and juggled a small ball of tape after Arsenal's win against Everton.
Özil seems poised to have an excellent season.
Wide Right – Oxlade-Chamberlain
Alex Oxlade-Chamberlain started last season as the first choice right-winger and, besides a series of unfortunate injuries, showed no reason to believe that he does not deserve this honor. He will be pushed this season by the likes of a healthy Theo Walcott and possible Wilshere.
Danny Welbeck could start this game in an attempt to give him some important minutes to regain fitness. It is not clear if Welbeck is healthy following a knee injury that his been a problem for him since April.
Wide Left – Wilshere
Wilshere has looked excellent in every match he has played in since returning from an ankle injury at the end of April. He scored a sublime goal against West Brom in the last game of last season, and then followed that up with two scorchers for England in June against Slovenia.
He looked sharp in Singapore and scored a penalty in Arsenal's first match there. Wenger has indicated Wilshere is going to play some matches in wide positions in this season due to the Englishman's versatility; work rate and the depth Arsenal have in central midfield. He will be pushing all of Arsenal's wingers and central midfielders for a place in the team.
Striker – Giroud
Walcott ended the last season starting in the FA Cup Final and scoring a hat trick against West Brom in the previous match. Olivier Giroud suffered a loss of form midway through April, paving the way for Walcott to play in his preferred position.
Both players start the season with a clean slate and the position will be up for grabs. Giroud fits Arsenal style of play a little more than Walcott does at striker because of the Frenchman's superior link-up skills. However, Walcott looked sharper in Singapore compared to Giroud. So it is very possible that Wenger decides to open the season with Walcott at striker.
My gut feeling is that Giroud is still first choice over Walcott though.
 (4-5-1)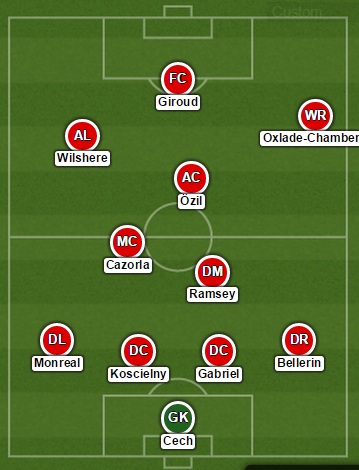 Via – Lineup Builder