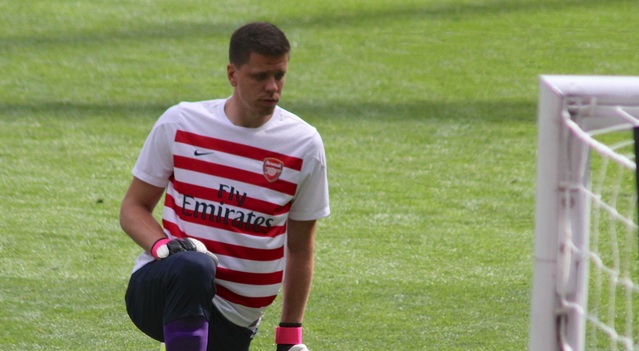 ESPN FC claims that their sources have informed them that Roma have begun talks with Arsenal to take Wojciech Szczesny to the Italian capital.
Arsenal recently signed Petr Cech and Arsene Wenger had expressed hope that Szczesny and David Ospina, who ended last season as Arsenal's first choice keeper, would compete with the Czech international for a starting position.
It was always unlikely that both Szczesny and Ospina would stay, however, Ospina had been the keeper tipped to leave the club with persistent rumors linking him to both Fenerbahce and Everton.
The rumors regarding a loan deal started yesterday after Szczesny followed Roma and a few Roma players, including former Gunner Ashley Cole, on Instagram. Roma have a need at keeper, as pointed out by Football Italia, consider their first choice keeper, Morgan De Sanctis, will turn 39 at the end of the season and is planning on retiring.
It would be a surprise to Szczesny leave Arsenal even if it is only for a season long loan. After the FA Cup Final victory in May, Szczesny was adamant that he wanted to stay at Arsenal long term and that his relationship with Wenger was strong. Szczesny was also quick to welcome Cech to the club and seemed to embrace the opportunity to learn from his new teammate. Although Szczesny didn't play in the Barclays Asia Trophy Singapore, he traveled with the club and was an ever-present member in training sessions.
Ospina only joined the club last year and ended the season as the club's first choice keeper after Szczesny fell out of favor at the turn of the New Year. It would be harsh to sell Ospina after only one season, especially considering the season he had, but Szczesny is an academy graduate with strong ties to the club, and is still a player that Wenger rates very highly.
A season on loan might be good for Szczesny's development, but only if he starts consistently for Roma. Learning from a world-class keeper such as Cech is likely to aid his development more than a loan would and if Arsenal still sees a future at the club for Szczesny, he is not likely to leave at all this season.