View the Chivas vs America 0-2 highlights and recap here.
Chivas vs America, the 'super clasico', the match that even the casual Liga MX fan makes sure to watch, will take place this Sunday, March 31, 2013 (10 PM Eastern) at the Estadio Omnilife in Guadalajara. This is Mexico's version of the Boca vs River, the Madrid vs Barca, the Yankees vs Red Sox- it's a pretty big deal- and millions of people in Mexico and USA will be watching. Furthermore, both teams have been playing well this season, and we can expect to see good quality soccer and an intense rivalry in the stands.
Chivas has only lost 1 game this season, back in week 2, and since then has earned 3 wins and 6 ties, totaling  16 points so far this season. Chivas is a solid team that can defend very well, although it has struggled consistently with scoring. After 11 matches, Chivas has scored just 11 goals, maintaining the same average it had last season. The difference this season, is that Chivas has allowed much less goals, just 10 so far. Thus, the high amount of draws.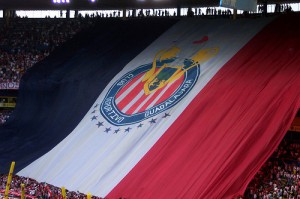 Chivas will have a tough challenge against America; Club America has scored 21 goals this season (2nd best in Liga MX) and allowed only 9 (tied for best in Liga MX). America possesses a talented scoring duo consisting of Benitez (7 goals) and Raul Jimenez (5 goals), the surprise striker of the season. Raul Jimenez has been so good this season, that he has effectively relegated the Ecuadorian star transfer, Mina, to the bench. Chivas will have to focus on its defensive positioning if it wants to halt this powerful duo.
This edition of the Chivas vs America 'super clasico' has extra factors that make it particularly interesting. First, with a win, Chivas would move up to 19 points and 6th place in the standings, placing the Guadalajara based squad in the middle of the playoff spots. An America win would put the Azulcremas in third place with 24 points. Second, Maza Rodriguez will have his first 'super clasico' as a Club America player. After 6 years of wearing the Chivas jersey, Marza will put on the Azulcrema uniform and play for the team he "deeply hated" for 6 years.
Chivas vs America 2013 Prediction
Chivas hasn't lost since Week 2, and although it does not blow opponents out of the water, it is a very solid squad that just 1 team so far has been able to crack. Club America is an overall very talented squad that bangs in the goals and defends well. This edition of the Chivas vs America 'super clasico' will end in a 1-1 draw. Both teams have league-leading defenses, and neither will want to risk too much looking for a win, preferring to earn a respectable draw.
Chivas vs America 2013 Television
The Chivas vs America match will be shown on Telemundo on Sunday, March 31, 2013 at 10 PM Eastern.
View the Chivas vs America 0-2 highlights and recap here.