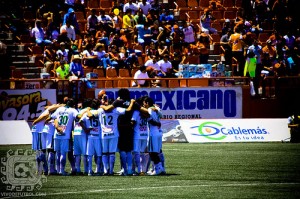 Leon and Morelia have both been playing very well so far in the Liga MX: one is the runaway surprise team of the tournament (Leon), and the other is still undefeated through five games (Morelia). Leon will try to maintain its supremacy at home and in the process remove the "undefeated" tag to Monarcas Morelia when they play at Nou Camp on Friday, August 24, 2012 at 9:30 PM Eastern. No matter what the end result is, I can guarantee that it will be one of the top games of the week.
Leon currently finds itself in second place of the standings, courtesy of ten points earned from three wins, a tie and a loss. Their only loss came against the red-hot (pun intended) Toluca, who have won all five of their Liga MX matches. At home, Leon has been outstanding, in two home matches, they obliterated their opponents by a combined score of 7-0; the opponents were Santos, the defending champions, and Xolos, an always tough team currently tied for the second place spot in the standings. Thus, it was no easy task, no fluke, Leon is the real deal.
Last week against Cruz Azul, Leon looked like the better team for most part of the game, dominating and constantly on the attack. However, Leon's inability to cap off their attacks with a couple of extra goals, led Cruz Azul to tie up the match with a fantastic free kick from Barrera. Still, Leon were clearly superior and deserved to win the game.
Monarcas Morelia is currently undefeated with two wins and three draws. Morelia hasn't been playing spectacularly, but they know how to get the job done; maintaining the good level of play we have seen from them in the several previous seasons. Last week they destroyed a weak Puebla 3-0, which led to the replacement of Puebla's coach with Daniel Guzman. I expect Morelia will come into the Nou Camp with the intentions of coming out with a point, likely playing a counterattacking style.
Prediction: Leon is the surprise team of the tournament, playing a fantastic, and offensive style of soccer that is just a joy to watch. At home through two matches so far, they have been impeccable, destroying two very tough opponents. Morelia has been good, playing an effective game that lets them squeeze out the points. However, I don't think that will be enough to defeat Leon; Leon will come out swinging and pull out another home victory. The score will be Leon 3 – Morelia 1.
Television:  The Leon vs Morelia match is not listed in any US channels, due to Leon's dispute with TV Azteca. I will update here if there are any last minute changes.
Radio: Listen to the radio transmission in Spanish here http://www.lamejor.com.mx/playlamejor/live/leon
Update: The final score is Leon 1 – Morelia 3.