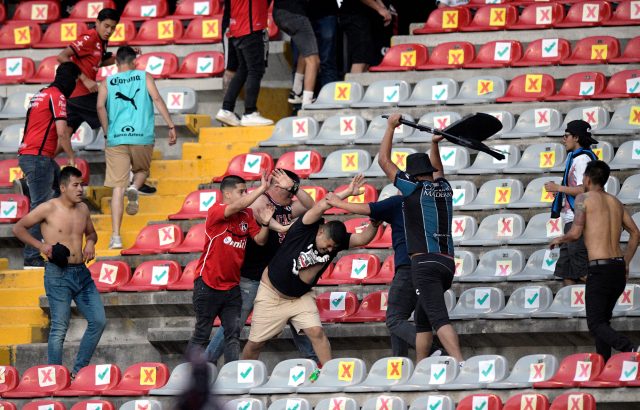 This Saturday, March 5, 2022 was the darkest day in Liga MX and Mexican soccer history: unconfirmed reports claim 17 deaths in the Queretaro vs Atlas riot. A sign of the overall sad state of Mexican society, nonetheless, the riot occurred due to the poor safety protocols in place by Queretaro and the Liga MX.
With less than four years to go until the 2026 World Cup, this type of in-stadium violence has to bring up the question: should Mexico lose the right to be one of the three 2026 World Cup hosts? Although violence never reached this level before, it is an always present issue at almost every Liga MX stadium.
Furthermore, the fact that Queretaro ownership knew that their barra has a history of violence, that their barra specifically dislikes Atlas, and that they still did not prepare the appropriate amount of security is a travesty of epic proportions. The Liga MX itself should be to blame as well, for not requiring teams to have appropriate safety protocols in place.
I believe the Liga MX should institute the following in order to safeguard fan safety, anything less should be punished with Mexico losing the World Cup:
Immediate disaffiliation of Queretaro from the Liga MX- Queretaro should never host a Liga MX game again
Suspension of the rest of the Liga MX season- for contractual reasons ($$$), I believe the most the Liga MX will even consider is to play all games without fans
Banning all barras from Mexican stadiums, forever – The barras serve no purpose in soccer, other than to be a continuous source of violence
Establish robust security protocols – This is a no-brainer and should be enforced with stiff penalties if teams don't follow
Push the Mexican government for the maximum legal penalties for all people who participated in the violent riots, as well as Queretaro ownership
If the Mexican Federation does not at least do these things, I believe FIFA would be in its right to remove Mexico from the World Cup.
Yesterday's violence is the saddest scene in Mexican soccer, an unthinkable level of violence that will forever tarnish Mexican soccer.