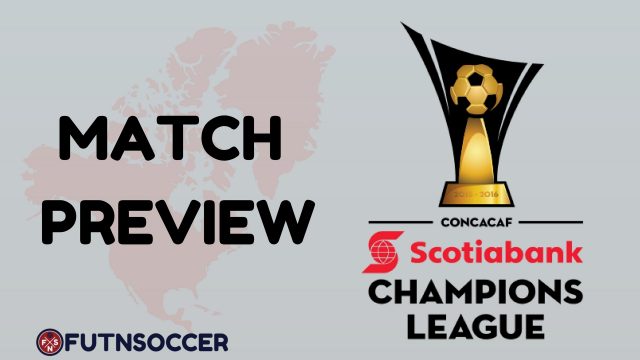 We have reached the second round of CONCACAF Champions League play, and eight teams are still in the fight for the regional championship. Of the eight nations that were represented in the tournament, only half are still around.
The quarterfinal matches will start this week, with the first legs taking place on Tuesday the 6th and Wednesday the 7th; the return legs take place on the 13th and 14th a week later.
Of the eight teams remaining, some cruised into the second round without difficulty while others barely squeaked out victories. Most winners expected to reach this stage. Maybe all of them expected to be here, actually. But this is where it gets serious. Some teams had the fortune of playing "easy games" in the first round, and that's not going to happen anymore in the quarterfinals.
Let's take a look at the series to be played in the coming weeks:
1
América (Mexico) vs Tauro (Panama)
Club América is tough to beat. In fact, they have not lost a game this season. They just blasted Saprissa in the first round, winning 5-1 in Costa Rica before closing it out at home for a 6-2 aggregate win. América were the favorites in that series for sure, but nobody expected them to walk over the Costa Rican giants at the Estadio Saprissa the way they did.
Tauro was impressive in their own way, defeating FC Dallas 3-3 and advancing on away goals. Tauro, the sole Central American team to progress, also impressed on the road in the first round. Though they eventually fell 3-2 in Frisco, managing to get not one but two away goals is no small feat, especially in a game where many expected them to park the bus for 90 minutes.
The top scorers of the first round are here: Cecilio Dominguez and Mateus Uribe both scored twice against Saprissa, and Edwin Aguilar netted two against Dallas. The difference between América and Tauro is that while Dominguez and Uribe both are just one of many weapons, Aguilar is the weapon for Tauro.
He caused nothing but trouble for Dallas over both legs and is completely capable of doing the same to América. Bruno Valdez and Emmanuel Aguilera are a competent pair for sure, but unless América can cut down on the number of crosses coming into the box, they'll be hard-pressed to keep Aguilar from scoring.
Tauro's defense looked shaky in the 2nd leg against Dallas, and as we know América is a clear cut above the Dallas offense. To win this series, they'll need to defend much, much better than they did in the first round.
2
Toronto FC (Canada) vs Tigres UANL (Mexico)
The most fascinating showdown of the quarterfinals by far, and a series that many fans were hoping to see in the finals. In a world where, thanks to the great parity of both Liga MX and MLS, the best sides from those leagues have often fallen from greatness a bit by the time the Champions League rolls around, this match-up is a breath of fresh air.
The best MLS team of all time, and the reigning MLS champions, against the Tigres team that just won the Apertura and has established a dynasty in Liga MX over the past several seasons. This is the highest quality MLS vs Liga MX series to ever take place.
Now, of course, I've talked at great lengths before about how lopsided the MLS vs Liga MX rivalry actually is, but Toronto is different. Giovinco is a dangerous man, even to Tigres. Toronto handled the Colorado Rapids in the first round without any trouble, though they did drop the MLS opener to Columbus 2-0.
Tigres, on the other hand, had things get a bit dicey against Herediano in the first round, despite seemingly locking up the series early on after two quick away goals. But Herediano would mount an impressive comeback at home to draw 2-2, and had things knotted up 1-1 at El Volcan for a brief period before Enner Valencia struck back and put the series to bed.
The players to watch in this one have to be the superstars. Andre-Pierre Gignac of Tigres and the aforementioned Sebastian Giovinco of Toronto are the kings of parallel universes. Both came to CONCACAF from high profile European teams, from high profile countries, and upon arrival, they put in high profile performances. For any fans of only one league or the other who are reading this: Gignac is Liga MX's Giovinco. Giovinco is MLS's Gignac.
3
Tijuana (Mexico) vs New York Red Bulls (USA)
Tijuana and New York both defeated Honduran sides in the first round, and thus neither team played has played a true road game yet (remember that Honduran hosted matches were played at neutral sites).
For Tijuana, the prospect of going to Red Bull Arena is far from scary: it's become a bit infamous of late after many USA fans used a lack of home support as the reason that the USMNT lost to Costa Rica. While that notion is completely absurd, it is true that the Red Bulls have never drawn great attendance to CCL matches, and it's quite possible the atmosphere will be lacking.
On the flip side, the Red Bulls will have a bit more to deal with in Tijuana. Although far from the most intimidating crowd in Mexico, Xolos always are tough to match at the Estadio Caliente, and a lot more people will actually be there.
What does New York bring to the table? Goal machine Bradley Wright-Phillips scored his first of the tournament against Olimpia and will be looking to add to that tally here. The new look Red Bulls midfield, which is down one Sacha Kljestan, looked plenty capable of creating chances, which is a good sign for New York.
New York also didn't play on the opening weekend of MLS, so they will be fully rested and ready to go on Tuesday night.
Tijuana's problems with scoring goals seem to have lessened in recent weeks. They just put three past Lobos BUAP in a Liga MX match and were able to get a goal in each game against Motagua in the first round. Not exactly record-shattering numbers, but it's an improvement over the early season rate.
One player to highlight for Tijuana: Gibrán Lajud. He's been a solid keeper for a while, showing the occasional flash of brilliance, but in 2018 he has really turned it up a notch. He has probably been the best goalie in Liga MX so far this season, and he could definitely play a big role in this series.
4
Seattle Sounders (USA) vs CD Guadalajara (Mexico)
Another intriguing MLS vs Liga MX matchup. The Sounders are presumably one of the stronger MLS sides, although they dropped their opener at home to the brand new LAFC on Sunday. To be fair to Seattle, they were resting some players for this series, including Clint Dempsey.
Chivas on the other hand just played a wild 90 minutes in the Clásico against América, and may be a bit tired when the teams meet in Seattle on Wednesday night.
This is a big game as far as the Liga MX-MLS rivalry is concerned. If MLS wants to prove that they are closing the gap, they really need this one. Chivas is one of the worst teams in Liga MX, hands down, and Seattle is the reigning MLS runner-ups. The stakes are on MLS. A win for Chivas is not a great look for the league; a win for Seattle is understandable for Liga MX.
Chivas had a couple of easy wins against Cibao, while Seattle dealt with a ferocious Gerson Mayen and Santa Tecla, though the Sounders pulled away in the final 30 minutes of the series.
If you know me, you can probably already guess who I think the player to watch is: La Chofis! Yes, Javier López didn't have a great game against América, but he has been having a fantastic year in Liga MX and is, in general, a very fun player to watch. If you aren't familiar with him, you're in for a treat.
Now aside from Chofis, who may or may not actually be in the starting lineup on the heels of the América game, try to keep your eyes on Roman Torres of Seattle. The Panamanian "Mr. Everything" is a great defender, occasional goalscorer, super clutch, and brings a massive physical presence to the field. His performance is going to have a big impact on who wins this series.
5
Predictions
Before the first round, I had Seattle over Chivas, but I've since changed my mind. Liga MX sweep again.
América def Tauro
Tigres def Toronto
Xolos def New York
Chivas def Seattle