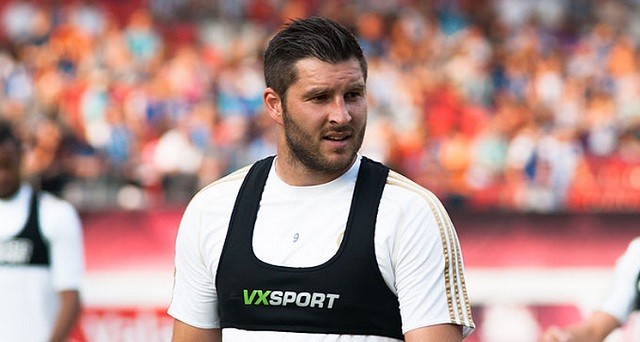 With the new year upon us, we also enter another exciting season of Liga MX futbol. After an incredible Clásico Regio Final during the Apertura, we've all been waiting for the action to start up again.
Each team will be coming into the new season with its own goals and expectations. Since it is still the first week of 2018, here are some New Year's Resolutions for every club in Liga MX:
Tigres
Tigres' have come into three straight Clausuras as the reigning champions. And the first two times, they appeared to suffer from championship hangover, getting off to slow starts in their quest to be bicampeonatos. Tigres should strive to avoid the hangover this time around and dominate as they did in the Apertura.
Rayados
Rayados have one goal for 2018: Avenge last season's defeat. They'll never be able to fully exorcise the demon's from December until they beat Tigres in a final, but a title would certainly help.
América
América have made some bigtime signings in the past few days, including former PSG striker Jeremy Menez and Luuk de Jong from PSV. Their goal for the year should to be to challenge the two Monterrey clubs. They made the semis in the Apertura, and with these new pieces a title should be the goal.
Morelia
It seems like so long ago that Raul Ruidiaz saved this team from certain death with his last minute goal, but it hasn't even been a calendar year yet. Morelia's resolution should be to qualify for their 3rd straight liguilla; it's well within their reach.
León
León have been a consistent semifinal/quarterfinal team over the past three seasons, and the goal for the 2018 campaign should be to get over the hump and reach a final. That's an incredibly tall order, but it's the logical progression they should be shooting for.
Toluca
Toluca's goal should be to bring back Sunday afternoon madness. With Pumas struggling last season, there was a severe lack of craziness during those normally fantastic Sunday day games. Get to it, Toluca.
Cruz Azul
Cruz Azul, with new manager Pedro Caixinha, should have some fairly lofty expectations. If they could make the playoffs again and finish ahead of rivals América, it would be a nice step forward for the club.
Atlas
Atlas, like Cruz Azul, should dream big for this season. Chivas will probably bounce back, but Atlas should still finish ahead of them, and with Clifford Aboagye and Ravel Morrison finally working together, Atlas' might just be semi-final bound.
Necaxa
Necaxa had only 19 goals last season, despite finishing 9th. To put that number in perspective, every team above them and 5 teams below them scored at least that many. If they could get the offense going just a little bit more, they could potentially return to the liguilla after a brief drought.
Lobos BUAP
BUAP had a fantastic first campaign in Liga MX, even if they fell off near the end of the season. I thought they would be relegated for sure, and they proved me wrong bigtime. BUAP's goal should simply be to repeat their Apertura successes, and secure safety heading into the 2018-19 season.
Tijuana
Xolos fell off during the Apertura after two straight finishes as the #1 seed, particularly at home. It'd be tough to ask them to finish first again, but they should strive to reclaim their dominance in their own building. After a year of near perfection at home, Xolos managed just 3 wins at Estadio Caliente during the Apertura.
Pachuca
Pachuca's resolution should be to regain some relevance in the grand scheme of things. Since getting bounced in the first round by Necaxa back during Apertura 2016, they've missed two straight liguillas.
Guadalajara
Chivas had a bad Apertura following their Clausura 2017 triumph. The goal should be to recover from that disaster, and get back into contention. I can't see them getting past the quarterfinals, but a playoff berth would be a huge success.
Santos Laguna
Santos' new year's resolution is perhaps the simplest of them all: win more games. Santos have drawn so many games over the past few seasons, but have been unable to claim the full three points more often than not. If they could turn just a few draws into wins, they could shoot way up the table.
Puebla
Puebla's resolution is a bit more meta than most. This club is 13 points clear of relegation, and I think they'll survive the season just fine. Instead, they should focus on putting butts in the seats: the empty Estadio Cuauhtémoc has become an eyesore.
Querétaro
Los Gallos Blancos are eight points clear of relegation right now, and their goal should be to get off to a hot start to put Veracruz in full panic mode early on. They've got a tough opening schedule, with América and Tigres coming in the first three Jornadas, but certainly a few early wins would go a long way in keeping this team safe.
Veracruz
Survive. That's all Veracruz needs to worry about this season, and it's going to be a very difficult task. As noted above, they're eight points back of Querétaro and 13 back of Puebla. On top of that, they're a pretty awful team, so they've got their work cut out for them.
Pumas
There's nowhere to go but up for Pumas this season. After a shocking last place finish during the Apertura the club should be looking to bounce back and compete for a playoff spot. Another bad finish could put this club on a collision course with the Ascenso in a few years. They're 11th in relegation right now and their big 35 point season will come off the board next year.