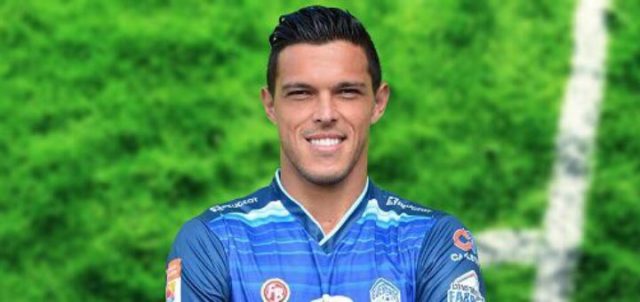 Luis Angel Landin was once considered the next big promising striker for the Mexican national soccer team. The Michoacán native was a product of the prestigious Pachuca youth academy and played with the 'tuzos' from 2004-2007. Landin did manage to score goals with Pachuca but was overshadowed by another Mexican striker in Juan Carlos Cacho. The 6-foot forward finished his tenure at Pachuca with four championships, winning two Liga MX titles, a CONCACAF Champions Cup and a Copa Sudamericana. At 21-years-old, Landin had seen all his team accolades in his entire career up to that point.
After leaving the 'tuzos', Landin became a lost journeyman lost unable to find a stable home owned by Monarcas Morelia but being loaned out consistently. The Mexican striker played with nine different teams from 2007-2015, ranging from various leagues including the Liga MX, Ascenso MX and MLS.
At 30-years-old Landin's career seemed finished in 2015, "el escorpion" went back to play in Texas, this time not with the Houston Dynamo in the MLS. The Mexican striker formed part of the Brownsville Barracudas of the Major Arena Soccer League or the MASL. Landin excelled getting 15 goals and eight assists during his tenure with the club; however, it seemed unlikely that a professional soccer team would ever take a chance on him again.
But in 2016, Perez Zeledon of the Primera Division de Costa Rica took a chance on the 31-year-old which turned out to be a decision that favored both parties. The ex-Liga MX player was not overly successful in his first season with the team but in 2017, Landin is having a breakout season. The former 'seleccionado' currently has 13 goals and is among the top scorers in the league.  One of the most impressive things is that none of the Mexican player's goals have been via a penalty. The top scorer in the league, Erick Scott has scored 20 goals but 10 of the goals have come from the penalty spot.
The man from Zamora, Michoacán has expressed his interest in a possible return to the Mexican national team. Landin played in just five games with 'el tri' replacing Jared Borgetti in the 2007 Copa America. The 'escorpion' is yet to score with the national team but a spot back in the 'tricolor' is not out of question due to his current success and because Landin knows Juan Carlos Osorio from his days at Puebla in 2012. With the current "crisis" of a lack of Mexican strikers, Landin may just be a viable option for at least the Gold Cup.