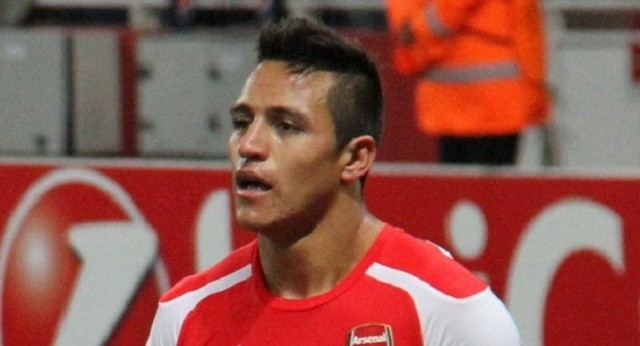 According to the Mirror's John Cross, Arsenal expect even better things from Alexis Sanchez this season after a sit down with Arsene Wenger over the summer.
According to Cross, Wenger had an honest conversation with his Chilean superstar where he explained plans to play Alexis as a striker.
Alexis has primarily played out wide during his Arsenal career, but has found himself playing as a striker for much of this young season. It was initially thought Wenger made this choice as an emergency alternative until Olivier Giroud regains fitness, new signing Lucas Perez acclimates to the club, and Danny Welbeck recovers from a knee injury. However, it seems Wenger became concerned with Alexis' selfish play from the left and inconsistency tracking back last year, prompting the change.
So far, Alexis through the middle hasn't received rave reviews with Arsenal looking destitute of ideas in the final front. Alexis' tendency to drop deep and wide leaves Arsenal without a man to play off of or target in the box. Additionally, he gets in the way of both Mesut Özil and whoever is playing on the left, leaving both players ineffective and the wide right player isolated.
Recently, Wenger has brought on a striker to end matches, pushing Alexis back to the left. Arsenal (and Alexis) have looked most effective when lined up this way and the Chilean grabbed a late equalizer for the Gunners against PSG Tuesday night from that position. How much longer we'll see this lineup experiment is unknown, but Wenger can't be oblivious to the problems it poses.
Wenger and Alexis also discussed the manager's rotation policy, and it is believed Wenger now has a better grasp of the Chilean's temperament. Alexis often forced himself back from injuries early, refused rest, demanded he play every game, and became visibly upset when substituted. While his commitment can't be question, his behavior put the manager in an awkward situation, especially when a different player may have been the better option.
It has been made clear to Alexis that this year he will be rested and rotated. We saw the first example of that this past weekend when Arsenal played Southampton 48 hours after Alexis had returned to London from international duty in South America. The Gunners have options, and while Alexis is a key player, it's important that he's available all year. For that to happen, Wenger must be able to use the depth of his squad.
One lingering concern regarding Alexis is his contract situation. Both Özil and Alexis are in the final two years of their deals, and while it is believed Özil will commit to a new deal, in part thanks to the arrival of German compatriot Shkodran Mustafi, there is some concern over Alexis' future.
Reports indicate that Alexis is asking for a significant wage increase and a buy-out clause in his new deal, indicating that negotiations could draw out. For now, Alexis' immediate future is settled, however develops over the course of the season could alter that.