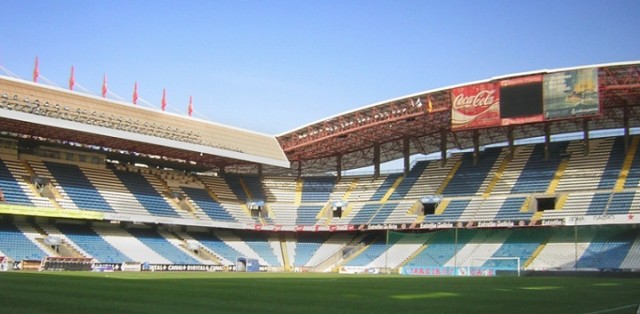 On Wednesday, 20th of April 2016, the current Spanish and European champions FC Barcelona will visit Galicia to measure forces with Deportivo de La Coruña at the emblematic Riazor Stadium for Round 34 of the Liga BBVA.
FC Barcelona are yet to wake up from their recent nightmare. After being eliminated from the UEFA Champions League by Diego Pablo Simeone's Atlético Madrid, the Catalan team fell, once again, short from expectations, succumbing at the expense of Valencia CF last time out. A 2-1 defeat together with an embarrassing first-half performance cost Barça their fifth defeat of the season while they saw Atlético and Real Madrid closing the point gap to the title race.
One point from 12 possible points is FC Barcelona's current record and last weekend's defeat against Valencia CF was the straw that broke the camel's back for some of the team's supporters, who heavily criticized and even insulted the players after the match.
Andrés Iniesta wrote on Twitter that what happened last Sunday cannot be explained while he also remembered that Barça only depend on themselves to win La Liga. In fact, one must agree with Iniesta's claims, but it is also true that the team's current moment of form is far from being good and that a negative result at Riazor next time out would certainly cost the Catalan team the league title.
Luis Enrique keeps being pointed out as the root of all problems, but the Asturian head coach, who have already faced some criticism in the past, certainly has a word to say on this matter. For next Wednesday's predictably complicated fixture at Riazor, Luis Enrique will not be able to rely on the services of Gerard Piqué, who is currently suspended, after picking up his tenth yellow card of the season last time out. Mathieu, Sandro Ramirez and Vermaelen will also miss out there because of injury.
As for Deportivo de La Coruña, the Galician team have been extremely inconsistent in the second-half of the season and have only won one of their last five matches. After losing at home to Quique Setién's mighty UD Las Palmas, Depor clawed a valuable point from their visit to Ramón Sánchez Pizjuán last weekend as they held Sevilla FC to a draw.
For the upcoming fixture against the all-powerful FC Barcelona, Victor Sánchez will not be able to rely on the contribution of Spanish defenders Alejandro Arribas and Alberto Lopo, who are both currently suspended. The Argentinean goalkeeper Germán "Poroto" Lux will also miss out there due to a knee injury.
During their last visit to Riazor, FC Barcelona won by 4-0, but one must not forget that the Catalan team failed to overcome Depor the last two times they measured forces at Camp Nou. That being said, this might probably be Barça's strongest line-up for upcoming fixture against Deportivo de La Coruña.
Goalkeeper
Claudio Bravo conceded seven goals in the last four league matches and didn't seem particularly inspired during any of them. Nevertheless, he will probably be Luis Enrique's choice for next Wednesday's match at Riazor.
Defence
The absence of Gerard Piqué will force Luis Enrique to implement some changes on his defensive sector. Sergi Roberto will probably be the chosen one once again to play as right back, Jordi Alba will occupy the left back position and Marc Bartra might probably be the only available option to play together with Javier Mascherano at the centre of the defence.
Midfield
Sergio Busquets, Ivan Rakitic and Andrés Iniesta will probably compose the midfield triangle as it is not likely that Luis Enrique will change much at the centre of the pitch for such an important match.
Forward
Barça's attacking trident, Neymar, Messi and Luis Suárez will have another opportunity to get back on track and erase from the supporters' minds their recent underachieving performances.
(4-3-3)