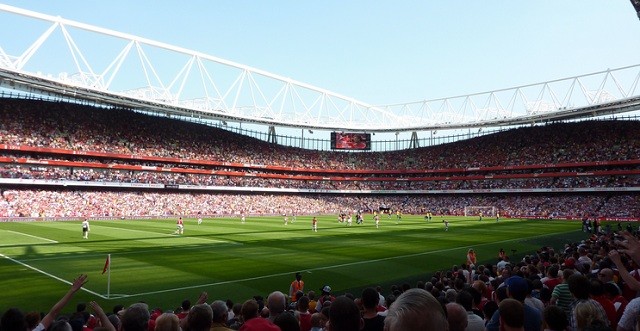 Arsenal play Burnley in their FA Cup fourth round clash at the Emirates on Saturday. Arsenal will look to put aside their Championship side opponents in their quest for a third consecutive FA Cup.
Burnley finds their selves in a rich bit of form this month having won four games on the trot. They currently find themselves placed third in the Championship, with only five points separating them from leaders Hull City.
Arsenal, like Burnley, finds their selves tied for second with Manchester City, although placed third in the table based on goal difference. Unlike, Burnley, their form is not rich having lost once and drawn twice in their last three games.
Arsenal's latest match came in a disappointing 1-0 loss to a familiar foe in Chelsea. The result was disappointing although the performance was not considering the fight the squad exhibited after Per Mertesacker's untimely sending off. The Gunners should be disappointed that they couldn't convert one of the few opportunities they had on goal, however, will be pleased by the fact that Chelsea hardly sniffed Petr Cech's goal after they opened the scoring.
An FA Cup win against a lesser side, on paper, may be just what the Gunners need to kick back into gear ahead of a difficult part of their schedule coming up this month.
On a positive note, there is good news on the injury front. Francis Coquelin and Tomas Rosicky have been deemed fit enough to participate this weekend. Neither player will start, although both will likely come off the bench.
Unfortunately, Danny Welbeck will miss out despite returning to full training this week as the manager wants to give the English striker a few matches in the reserves before reintroducing him to first-team action.
Arsene Wenger also gave an update on the injuries that Jack Wilshere and Santi Cazorla sustained. Both players are a few weeks away from returning to training meaning we could see both Cazorla and Wilshere feature at the beginning of March.
The return of a number of injured senior players has left the squad in good spirits. Mesut Özil tweeted out his happiness to see a few of his teammates back in training again.
Driving home from today's training session ?? Happy that almost the whole squad is fit again?? #AFC #Arsenal #ozil pic.twitter.com/hHqsgVLOql

— Mesut Özil (@MesutOzil1088) January 28, 2016
We should see a debut for new signing Mohamed Elneny, although it's not clear if the Egyptian international will line up as a box-to-box midfielder or as the holding midfielder. That decision likely depends on whether Mikel Arteta or Calum Chambers gets the start.
With a number of first team players returning to training, Wenger has a few selection decisions to make, a luxury he has not had for a good two months.
Here is the most probable Arsenal starting lineup against Burnley on Saturday.
Goalkeeper – Ospina
David Ospina returns to action after missing Arsenal's third round clash against Sunderland earlier this month.
The Columbian international has barely featured this season due to injury and new signing Cech. The FA Cup will likely be his only opportunity to see time on the field and Ospina will want to use it well.
Right Back – Chambers
Wenger has been hesitant to play Chambers as a right back, preferring to play him as a center back or holding midfielder instead this season.
However, with Mathieu Debuchy's protracted transfer saga nowhere near ending, and Hector Bellerin in need of a rest, Wenger may be forced to play Chambers in the position he played when Arsenal purchased him.
Center Backs – Gabriel & Koscielny
With Mertesacker suspended a match due to his sending off, Gabriel and Laurent Koscielny will form the center back pairing in Arsenal's back four. The duo has played together often and has performed well.
Gabriel would have likely started this match regardless of Mertesacker's suspension, lessening the effect of the German's one match ban.
Left Back – Gibbs
Kieran Gibbs has established himself as an option off the bench when Wenger wants to tighten things up at the back towards the end of matches. Gibbs is also the designated cup left back and has performed well when called upon. He will resume his duties on Saturday.
Defensive Mid – Arteta
Arteta will make his first start for the club since September 23rd when Arsenal beat Tottenham in the Capital One Cup. Arteta has featured a measly 12 times for the Gunners this season, with 10 of those appearances coming off the bench in short cameos. The Spaniards season has been derailed by injuries, although his presence as a leader at the club is still valuable.
Wenger will call upon Arteta in this match to bring about stability in the midfield. Arteta will be a calming presence for Alex Iwobi and debutant Elneny.
The club captain will likely make way for Coquelin at some point of the match.
Central Mid – Elneny
Elneny will make his debut for the club on Saturday. Upon signing him, Wenger professed he was not sure whether Elneny would be a better holding or box-to-box midfielder.
The opportunity to play alongside Arteta allows Elneny to exhibit qualities that both roles require. Arteta is an excellent passer and defensive reader of the game, however he has physical limitations. Elneny will have to make up for that by showing strength in his tackling and stamina by getting up and down the pitch.
This is a perfect opportunity for Elneny to make his debut for the club and an equally opportune moment for Wenger to learn more about his new signing.
Attacking Mid – Iwobi
Iwobi last featured for the club as a substitute two weeks ago. He came on for Theo Walcott against Stoke City and showed burst and creativeness. His last start came in this very competition against Sunderland.
In that match, Iwobi took over the number 10 role and showed a knack for picking out his teammates and making slaloming runs through his opponent. Wenger will reward the young Englishman for his good form with another start.
Rosicky is likely to come on at some point for Iwobi, in an effort to give the Czech international some game time after missing all of the season to date.
Wide Right – Oxlade-Chamberlain
Iwobi's selection pushes Alex-Oxlade Chamberlain to a wide right position. This is the type of game that Oxlade-Chamberlain needs to take control of. The danger is that he will try too hard, meaning he will do too much, which has been a consistent problem he has faced all season.
Ideally, Oxlade-Chamberlain would play centrally, however with Iwobi showing ability through the center, and Alexis and Iwobi's limitations on the right, the Ox starts here.
Wide Left – Alexis
Alexis will get his first start since injuring his hamstring in November. The Chilean made a return to full team action last weekend with a cameo off the bench against Chelsea.
It took a bit for Alexis to shake off some of the rust, but he was showing signs of his usual form towards the end of the match.
Alexis' experience and ability will benefit Iwobi, and possibly Elneny, whose performance should be enhanced by his world-class teammate.
Wenger will use this match as an opportunity to build on Alexis' match fitness. It's unlikely he will finish the match, as Wenger will want to start him once again on Tuesday against Southampton. Therefore, we may see Jeff Rene-Adelaide make his second senior appearance for the club.
Striker – Giroud
Olivier Giroud will start a match he likely wouldn't have if he hadn't been sacrificed on Sunday for Mertesacker's red card. Because the Frenchman only played 20 minutes, he should be fresh and fit enough to play on Saturday and start once again on Tuesday.
Walcott could have gotten a start this weekend at striker if not for the circumstances that transpired on Sunday, which is why Walcott will likely feature on the bench.
Like Alexis, Giroud's class will benefit Iwobi and possibly elevate his performance.
(4-5-1)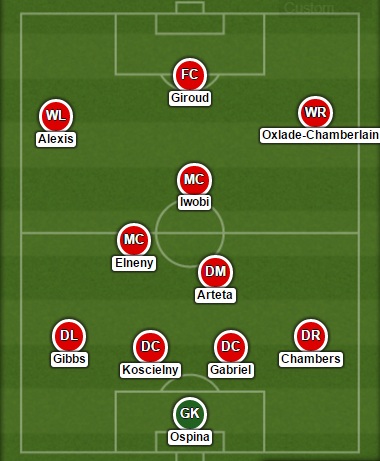 Via – Lineup Builder