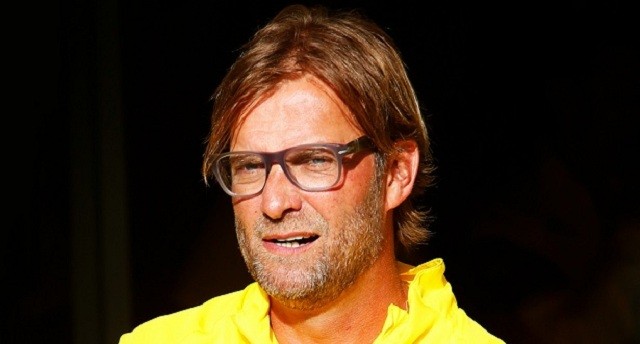 After sacking Brendan Rodgers after the Merseyside Derby, it looks like the Fenway Sports Group and Liverpool have found the man to lead them for the rest of the season and beyond. That man is former Borussia Dortmund manager Jurgen Klopp.
The hiring is certainly good news for the Reds since they get a manager who knows what it takes to build a squad from the ground up and one who has a track record of making young, talented players achieve their potential. The 48-year-old signed a three-year deal with the club and that should give him more than enough time to bring Liverpool back to where they expect to be.
It's official – Jürgen Klopp is the new manager of Liverpool Football Club #KloppLFC pic.twitter.com/QfAxM9sT97

— Liverpool FC (@LFC) October 8, 2015
The German mastermind comes to Anfield after ending a seven season spell in charge of the Bundesliga team where he won the league twice while also claiming the DFB Pokal trophy once. He also led the team to a Champions League final where they lost 2-1 to Bayern Munich. While he is not recognized alongside other managers such as Pep Guardiola and Jose Mourinho as a tactical mastermind, Klopp is still one of the most astute strategists around.
During his time at Dortmund, Klopp became famous for using a pressing style called gegenpressing. It was a style of play that allowed players like Marco Reus, Mario Gotze and Robert Lewandowski to shine and take advantage of their youth and work rate. As Lewandowski's first goal against Real Madrid shows here, the pressing forces the opponents to rush their passes and it allows the team to begin a counter-attack from almost anywhere in the pitch.
One of the reasons why Klopp is a fantastic hire for Liverpool is that many of their players are familiar with pressing and what it entails. Rodgers actually utilized this playing style quite a few times during his time at Anfield and it was one of the reasons behind Liverpool's 3-0 victory against Tottenham last season.
While there will always be an adjustment period when a new manager is hired, the Liverpool players should adopt to Klopp's tactics sooner rather than later. Players such as Emre Can, Lucas Leiva and Alberto Moreno should be excited to work with Klopp since he will utilize their high work rates and ability to be rough on the pitch. On the other hand, Klopp may be the manager who could truly unlock Philippe Coutinho's potential as well as making Daniel Sturridge one of the best strikers in the world.
The hire is an exciting one for both the Liverpool players and the fans, the club was able to bring in one of the best managers in the game and the future certainly looks much brighter now than it did at many points the past two years. While some fans may be disappointed that Carlo Ancelotti was not the manager hired, Klopp ability to improve a team from within and youth make him the better choice than the former Madrid coach who has always worked with squads that were built by money and one who would have likely stayed at the club for only a few years.