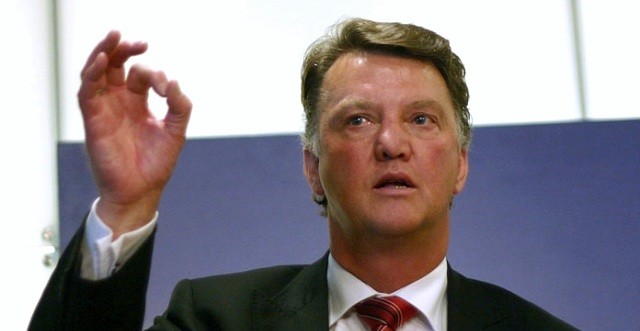 Van Gaal's Out-of-control Extravagance 
Louis Van Gaal's experiment with Adnan Januzaj as a No. 10 was a sheer failure. A failure that saw the young Belgian loaned out to Borussia Dortmund and the natural trequartista Juan Mata left acting as a humble subordinate, who had perceived his doom of being an eternal "wing-man."
In 2003 Juan Román Riquelme escaped Van Gaal's Barcelona after just one year – full of struggles and crashed dreams. The Dutch General demanded the artist to tackle and play wider. He used to stick him firmly in one position, whenever the Argentinian was trying to grace the football match with his free-flowing approach. The tension between them found its reincarnation within the recently deteriorated relations of Van Gaal and Angel Di Maria. "Van Gaal has his philosophy and one of the things that made me want to leave is that," Di Maria told ESPN Radio Argentina after his scintillating cameo against AS Monaco last Sunday, when he yet again proved his unstoppable ability of undressing the opponent's defense, with the very elegance of a well-mannered groom undressing his virgin bride.
Month by month Van Gaal's philosophy turns out to get so archaic that is way too unthinkable to comprehend. His extravagance starts playing a mean joke on him. Yet he relishes the buzzing atmosphere of the most popular league in the world, with all those annoying reporters, whom Van Gaal occasionally tells to shut up during his cruise-controlled pre-match press conferences.
With all his extravagance Van Gaal splashed 50 million € (+ 30 mil bonuses) for the French starlet Anthony Martial, who might become the next Thierry Henry. However, the bitter sense that he is just a Danny Welbeck in disguise feels a bit more realistic. Van Gaal will try to put him ahead of Rooney, leaving the latter more opportunities to have the ball in his possession, as the Frenchman will play according to the No.9 inscription on his shirt.
Martial's current market value is actually 8 million €. Remember Divock Origi starring at the World Cup in Brazil? Imagine if Liverpool signed him for 50 million that summer. Liverpool's transfer policy, that has coached the humble readiness within The Kop for inadequately expensive purchases, now seems fantastically sober in comparison with their arch-rival's methods of transfer dealings. Martial – right footed, and Origi – comfortable with both feet, are the same age and got their hours of fame in Ligue 1. Both strikers are capable of playing wide and cut inside abruptly, are not shy to dribble and have some decent pace. But the Belgian was bought according to his market price, while the freshman in Deschamp's national squad is about to carry that unbearable 50 million price tag upon his teenager shoulders. The price tag similar to the one that once saw 27-year old superstar Fernando Torres' self-confidence and blinding flair vanished incredibly fast, just like the naive hope that Juan Mata will play in the tre-quarti zone ever again vanishes. Martial, however, claims he doesn't feel pressure, although he is well aware of and ready for it.
Imprisoned in Liberty Stadium
Manchester United's last game against Swansea exposed the main weakness of Van Gaal's current formation with Wayne Rooney far upfront, nominal central midfielder Ander Herrera behind him and Memphis and Mata playing wide. The boyhood Everton fan literally disappeared from the pitch.
Rooney touched the ball even less than Sergio Romero and had 1 shot on target out of mere 3. Herrera himself didn't spoil the party, however his unreadiness to be "the last man standing before the poacher" left Manchester United busy predominantly on the wings, where neither Memphis nor Mata made enough runs behind the opponent's full-backs and center-backs, failing to electrify the turf.
One of the bright spots at the Liberty stadium that afternoon – Luke Shaw proved that last season's constant lack of fitness was gone with the wind. The very wind that whistled through Red Devils' defense as easily, as Andrew Ayew's curved lobbed pass did, leaving Blind and Smalling bewildered, finding in-form Bafé Gomis.
Astonishingly, Shaw, who had decided to have a calm walk in a park after his side's another failed goal attempt, allowed Ayew to start Swansea's counter-attack from the flank he'd been responsible for. But these kind of mistakes are forgivable when you are just 20.
Goalkeeping Merry-go-round 
Meanwhile, the on-going goalkeeper situation is like a low-budget Spanish comedy by an expressive Dutch director. Victor Valdes, eventually failing to come to an agreement with any Turkish club, uploads Manchester United badge to his Twitter account on the very last day of the continental transfer window, as David De Gea is typing a farewell post for all the loyal fans out there and waiting for the midnight to fall, in order to hit "tweet" finally…
…David De Gea, 36, is marking his 15 year anniversary as Manchester United's unbreakable bastion by winning his second Champions League trophy. Who could imagine that those 28 minutes past midnight, which had kept him in Manchester for another year, would turn out to be the number of the trophies he would win with the Red Devils…
This could be an excerpt from a laudatory article on a legendary goalkeeper in a parallel universe; ours is slightly more predictable and rational – David De Gea is more likely to sulk in the reserves until the next year, when he is free to get out of the circus cage designed by The Dutch General.
In the end, De Gea got at least included in United's Champions League squad, while the ex-Barcelona keeper was left out in favor of inexperienced Ben Amos Sam Johnstone.