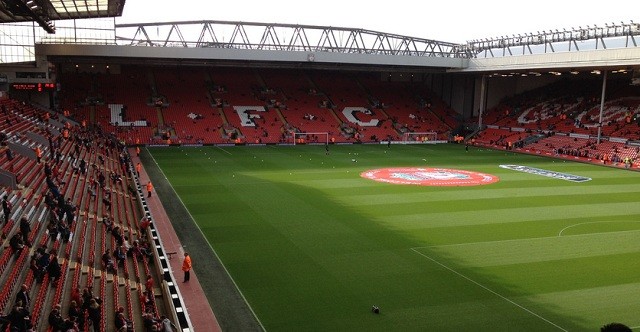 Brendan Rodgers and Liverpool kept the good times rolling in a come from behind victory against Crystal Palace in the FA Cup. They now face Super Lig leaders, Besiktas, in the Europa League. While not considered a club that performs well when playing other European teams, they did play very well against Arsenal earlier in the season, losing 1-0 over two legs.
With injuries and suspensions piling up on the Rodgers' team, and a big match against Southampton coming in just a few days after the Europa League fixture, it will be interesting to see if he plays a strong lineup. It is likely, that Daniel Sturridge will sit for the Besiktas match in order to be well rested for the game against the Premier League's fourth place team.
Goalkeeper
Simon Mignolet could not have done anything to save the Crystal Palace goal, but had a solid game overall. He was assertive when the ball was crossed into the penalty area, either punching the ball away or snatching it away from the Palace attackers.
Mignolet will need to be on his toes since Besiktas have scored 34 total goals this season, 5th most in the Super Lig.
Center Backs
Emre Can, has been playing very well as of late and his positional flexibility has been a huge asset for Rodgers. If the team is searching for a goal in the second half, Can will likely move into one of the central midfield roles to take advantage of his passing skills.
Martin Skrtel was not at his best in the last match since he committed the error that led to the goal, and he also only had 2 tackles. Despite all that, he is still the emotional leader of the team and will do anything to help Liverpool win.
Mamadou Sakho has really beat out Dejan Lovren as the main left center back in the team and he is playing his best football at the right time. They will have to work with the wing backs to be able to deal with a formidable front four, most especially, Demba Ba, who is leading Besiktas with 13 goals in the Super Lig alone.
Right Midfield
Jordan Ibe could make his return to the lineup after sitting out the Palace match since he was cup-tied. He will be counted on even more during Liverpool's Europa League run since Lazar Markovic is banned for four matches.
Despite only being 19 years old, Ibe already looks like a seasoned veteran in the few games he has played in for Liverpool. Even with all his offensive gifts, Ibe must also keep track of the dangerous Olcay Sahan, who has scored 6 goals this season.   
Center Midfield
Jordan Henderson will man the middle of the pitch along with, most likely, Joe Allen. Both were solid against Palace, Henderson had 6 key passes, while Allen made 3 tackles. When Liverpool loses possession to the Turkish team, Henderson and Allen will need to work hard to break up their short passing sequences.
Left Midfield
Alberto Moreno's speed is always a great asset when he helps out on defense, especially when Sakho gets out of position. However, it would be nice if the Spaniard could get use his pace to provide better offense, too many time he is easily dispossessed right after he gets the ball.   
Forwards
Adam Lallana has been playing very well as of late, providing the assist for Mario Balotelli's game winning goal against Tottenham, as well as scoring the winner against Palace. Rodgers should reward him by giving him a starting slot against the Turkish club. Raheem Sterling could return to the lineup after missing the past two matches with a foot injury. His speed and finishing ability make him a terror to deal with, and he could be just the player who could break through the tough Besiktas defense.
Philippe Coutinho has looked tired at times and that has led to him being substituted off during the second half. His ability to find the hole in the defense will be useful. If Rodgers wants to rest any of these players, he will likely turn to Balotelli, it looks like he finally enjoys playing for Liverpool and he actually smiled when Lallana scored against Palace. There are other options as well, Fabio Borini and Rickie Lambert have their own strengths they can offer if they are given a chance.
(3-4-3)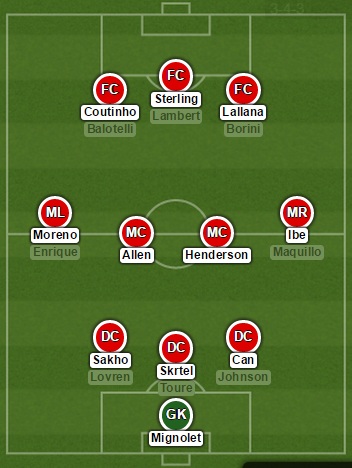 Via – Lineup Builder