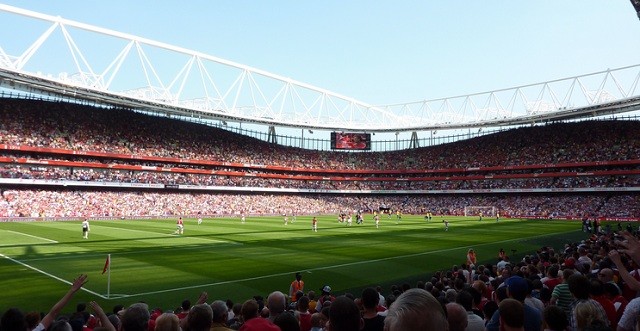 Arsenal travel to Swansea Sunday, and will hope to respond to Tuesday's disappointment. After conceding 3 goals in the last 30 minutes, allowing Anderlecht back in the game, both Arsene Wenger and Per Mertesacker called on the team to improve against Swansea.
Mertesacker criticized Arsenal's defending as a team, while Wenger lamented the team's lack of focus and ability to finish games. While both have valid points and they said the right things after Tuesday's situation, how the team responds to these statements is another story.
It is unclear what, if any, changes Wenger will make to the starting lineup. It's also unclear if he can make any significant changes. We know for sure that Mikel Arteta will not play, as his stop-start season has come to a halt once more with a mild hamstring injury. This means that Mathieu Flamini will likely come in for the Spaniard.
Jack Wilshere is back after being unable to feature in the last three matches due suspension, injury, and illness. He may start ahead of Aaron Ramsey or Santi Cazorla.
Theo Walcott will most likely not start. He has only featured once so far since returning from injury and Wenger would rather give him a couple run outs and hope that he gets a couple minutes for England next week, than start him Sunday.
It doesn't seem like anyone else could really make a push for first team minutes. Tomas Rosicky and Lukas Podolski looked unconvincing Tuesday. Danny Welbeck seems to have solidified his place as the first choice striker over a now healthy Yaya Sanogo, and Joel Campbell has not done much to prove that he is deserving of a starting place.
The only bit of good news so far this week for the Gunners is that Olivier Giroud is set to start training by next week and may be available in a couple weeks.
Having said that, here is Arsenal's probably starting lineup:
Goalkeeper – Szczesny
He was not at fault for any of the goals Tuesday and was let down by his teammates. Last week I discussed how it's become almost customary to see Wojciech Szczesny make one odd decision per game. We didn't see that Tuesday, in fact he looked confident and assured for most of the game. Hopefully this continues and the rest of his teammates help him out.
Right Back – Chambers
It's possible and it wouldn't be overly surprising to see Hector Bellerin start here and Calum Chambers start in place of Nacho Monreal at center back. I think that anything is possible at this point with the back four, and giving Bellerin time here would make sense.
Wenger is stubborn though and knows that continuity is essential for a good defense to succeed.
Center Back – Mertesacker & Monreal
This duo did not seem confident for most of the game and it was unlucky for Anderlecht that they didn't score in the first half.
Playing Chambers here instead of Monreal, who clearly is not a center back despite his excellent effort, would make sense. Bellerin has performed well at the right back position and if Chambers is in fact Arsenal's third choice center back, he should then be played there when one of the two starters are unavailable.
Mertesacker had a poor match Tuesday. His performances have become essential to Arsenal's success in the back; he clearly misses his first choice partner, Laurent Koscielny.
Wenger will persist with this duo until Koscielny's status because clearer after the international break.
Left Back – Gibbs
He was one of the few players that performed consistently the entire game Tuesday. This has become the norm this season for Kieran. His performances has been so good that Ramsey sang his praise early this week.
Defensive Mid – Flamini
Flamini once again comes in for the injured Arteta, where the Frenchman hopes to make more of an impact than he did Tuesday. Once Arteta was taken off, it was clear that Arsenal had lost their balance. This was not necessarily Flamini's fault; he came in and made some key interceptions. However, Flamini does not provide the same calmness and leadership in the middle of the field that Arteta does.
Center Mid – Ramsey
Ramsey's performance the first 60 minutes was better than what we had seen for most of the season. We saw a more patient Ramsey, who was making excellent well, timed runs. He also hung back a little more with Arteta to provide some defensive cover.
Once Arteta was taken off, Ramsey stopped doing those things well. He needlessly went forward when he should have hung back and defended. This opened up the middle of Arsenals midfield and forced Flamini to do too much on his own. He didn't track back or make any effort to do so either.
He started to pass the ball carelessly, and inexplicably blasted a free kick over the bar when the sensible thing to do would have been to make a simple pass and ensure Arsenal kept possession.
Ramsey probably should have been subbed off instead of Alex Oxlade-Chamberlain or Cazorla.
Wenger needs to keep starting Ramsey though to allow him to regain his confidence.
Considering that Wilshere hasn't played in three games, its unlikely he will come in. The Englishman will likely make a cameo in the last half our or so for the Welshman.
Attacking Mid/Forward – Alexis Sanchez
Alexis put in another excellent display Tuesday, sending Welbeck through which eventually led to Arsenal's penalty, and scoring an exquisite volley after his shot from a free kick bounced off the wall.
He has excelled in this central position and begs the question of what Wenger will do when Mesut Özil returns from injury. The German's best position is exactly where Alexis' best performances have come this season. Moving Özil out wide is a possibility but the Chilean has performed well out wide as well and one would think that having a player of Alexis' caliber making runs for a centrally positioned Özil, will give opposing defenses nightmares.
Wide Right – Oxlade-Chamberlain
The Ox was one of Arsenal's top performers Tuesday and his substitution was a surprise. His was a constant menace down the left side, giving Anthony Vanden Borre a torrid time. He took his goal excellently, providing a calm and precise finish. He is clearly hitting top form and is going to give Walcott a difficult time getting starting minutes.
Left Wing – Podolski
This is a bold prediction for a couple reasons. Lukas' defensive record his horrid and on a week where team defense has been preached you would think that a player with Lukas' lack of defensive effort wouldn't start. The second reason is that he didn't seem interested Tuesday.
However, Cazorla has not played well for a couple weeks now. He is good at running at players and taking the ball to the center, but his final ball hasn't been there almost all season and his finishing is no where to be seen.
If Podolski can do one thing, it is getting in the right position and finishing.
Striker – Welbeck
It's possible Sanogo could start here considering that Welbeck has started in every possible match, besides the League Cup, since he signed for the Gunners. But the international break is coming up and with 5 days rest; Welbeck is young enough and athletic enough to play a long string of games.
He again performed with much effort and drive, even tracking back at times to help snuff out an Anderlecht counter attack.
He did well to get in a position where the only thing the Anderlecht defender could do was foul him in the box.
His lack of goals in the past 4 matches is worrisome though. He has had the chances in each game, but has either been unlucky with a blocked shot, or he couldn't get his shot off in time. Welbeck needs to turn this around, as Alexis cannot continue to carry Arsenal's scoring load for the entire season.
(4-4-1-1)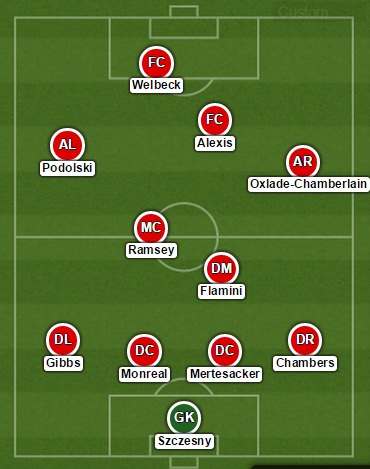 Via – Lineup Builder