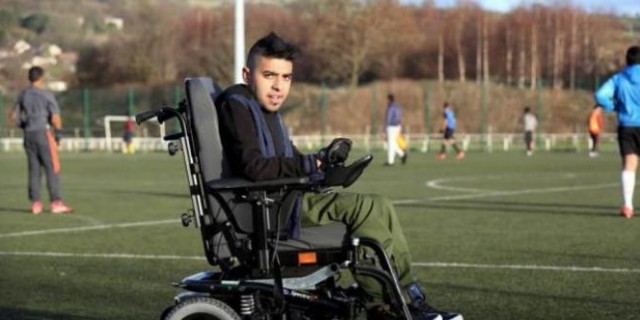 While it may not be the much anticipated signings of Arturo Vidal or Angel Di Maria that fans have been desperately hoping for, Manchester United have finally facilitated the arrival of a new recruit in the form of young Sohail Rehman and his arrival probably holds much more significance than any player the Red Devils will sign this summer.
Rehman has been hired as an academy coach by Manchester United and what makes the appointment special, is the fact that the young man has now become professional football's first wheelchair bound coach.
The 22-year old was born with spinal muscular atrophy and the debilitating condition left him in a wheelchair at the age of 13. As a kid who loved playing football, the news that he would be wheelchair bound due to his illness shattered his life.
Congratulations to Sohail Rehman, my inspiration for today. http://t.co/MramQzwTlG

— Ruth Hyde (@Relhyde) August 14, 2014
Sohail Rehman is an inspiration to all
However, rather than feeling sorry for himself, Rehman set out to follow his passion for the Beautiful Game and started taking his coaching badges as a sixteen-year old.
By 21, Rehman became the first fully qualified wheelchair-bound football coach in the world and upon his remarkable achievement; he received a letter of congratulations from the great Sir Alex Ferguson himself – which would seal his decision of pursuing his passion.
Following an early stint in Sunday League Football, Rehman was handed a dream opportunity to take a coaching session at his beloved Manchester United and after impressing, he has now been offered a full time role as the coach of the club's famous academy, which gave birth to stars such as Paul Scholes, Ryan Giggs and David Beckham among others.
To confirm Rehman's appointment, a United spokesman said, "We are absolutely delighted to welcome Sohail to Manchester United, his determination to reach a unique role in football is an example to us all.
"In the face of great adversity, Sohail has shown that hard work and determination counts for everything in overcoming obstacles. Since coming to the training ground, everyone at Manchester United has welcomed Sohail with open arms."
Rehman credits Sir Alex's letter for his decision to become a coach
Rehman was understandably delighted at being awarded such a unique opportunity and said that he is hoping to make most of the experience.
The 22-year old also went on to thank United's much maligned former manager David Moyes for playing a big role in helping him on his way.
He said, "It is mad. I get to go to the training ground most of the time and see the players – it is a weird feeling.  I will always be a fan first, so I still have that fan instinct. It's a great chance for me to gain some experience as well, being around coaches who have so much experience.
"Big thanks to David Moyes. I did a coaching session at United and after that he was basically saying how impressed he was with me.  He wanted to get me on board with the club – he started everything off."
Rehman thanked David Moyes for helping him on his way
Due to his condition, many have questioned Rehman's capabilities of becoming a football coach in the past, but the young man is not too bothered and has revealed that he looks at managers who have not played the game for inspiration.
He explained, "In the early stages you always have that question, how do you know when you've never played the game? But I think, in the end of the day, they have the right to ask that. I look at it like there are some managers out there who haven't played the game, or they played the game at a low level not a high level, like Jose Mourinho.
"The other drawback is obviously I can't demonstrate what I want to teach. I get fully into it though, I analyse want I want them to do and go into it with them. I always work round a problem and find a way of doing it. I probably am a lot more descriptive than other coaches, there is a lot more planning going into it really."
Rehman's story so far has been one of wonderful determination and an undying passion for the game, and given the young man's will to succeed, it would not be a surprise to see him go on to become the manager of a professional team in the future.