Daniel Sturridge is having a fantastic season with Liverpool, disproving the many critics that had originally stated that Sturridge was not worth £12m. Sir Alex Ferguson had famously said that "Daniel Sturridge is a gamble for Liverpool", echoing what many others in the EPL thought. Furthermore, many in the media and general fans still think that Sturridge has nothing special going on.
However, when we take a look at the stats, and compare Sturridge's statistics with Fernando Torres' 2007/08 season, his best ever at Liverpool, where he placed third in the Ballon D'or, we can see that Sturridge is the real deal. Click the picture below to expand: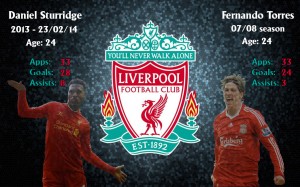 The statistics speak for themselves, in the same amount of matches, Sturridge has scored four more goals, and has had five more assists, than Torres had (in the same amount of matches) during his best season at Liverpool.
Many argue that Sturridge is only doing well because he gets to play alongside Luis Suarez, which certainly helps, but a player who is able to score 28 goals in 33 matches is no fluke. Sturridge is the real deal, and maybe it's time for people to start giving him the recognition he deserves.
What do you think, will Sturridge be an even greater Liverpool player than Torres?