The mention of June 17, 2002, brings an air of solemnity to 'El Tri' fans.  This was the famous date where the United States eliminated Mexico from the World Cup in Japan-Korea.  Up to that point, Mexico was considered the dominant player in the CONCACAF region, but Mexico was knocked-off its perch that day and has been caught in a seesaw battle with its northern neighbor ever since.
That World Cup victory also marked the unveiling of the United States' defensive-minded tactical strategy against the Mexico squad.  It involves keeping most, or all of the team on the defensive side of the field and only blasting forward for opportunistic counterattacks.  If caught sufficiently off-guard, Mexico's defense would either allow a goal after being stretched too thin, or else they would foul deep in their own territory, leading to scoring chances by way of set pieces.  This strategy, while certainly not the most exciting football, was used to massive effect in that World Cup victory, and has been employed by the United States against Mexico ever since.  It is affectionately known as "Parking the Bus", alluding to the two rows of defenders that are often "parked" in front of goal in the 18-yard box.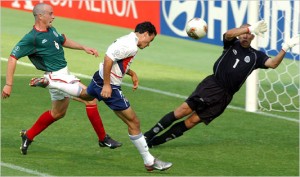 The United States has exclusively used this strategy in the decade since Korea, most recently in a 0-0 Hexagonal draw at the Estadio Azteca in Mexico City, a game where Mexico held possession for over 60% of the match and had 17 shots on goal compared to the United States' 0.  Through most of the first half and the entirety of the second half, the United States flooded their box with midfielders, creating no space for Mexican attackers who futilely attempted to squeeze a goal out of the US stingy defense.
Mexico's recent 0-2 hexagonal loss at the United States also held a lot of these recent trademarks of a US victory over Mexico, with both goals being scored on dead ball plays: a powerful Eddie Johnson header on a US corner, and a throw-in on  Mexico's side of the field.  Indeed, were it not for the massive play of Pablo Barrera (when was the last time anyone said that?), the Gold Cup 2011 final may have ended similarly as the US went ahead 0-2 on goals scored from (you guessed it) a corner kick header and a Landon Donovan-spearheaded counterattack.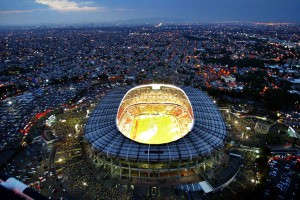 When Mexico is given room to work by an opponent's defense, they look explosive.  Recent friendly victories over African powers Ivory Coast and Nigeria demonstrate El Tri's ability to score when the other team allows them room.  However, facing the familiar foes of CONCACAF, nations who had been accustomed to getting beaten by Mexico have been giddy with excitement using the US' blueprint, with teams such as Jamaica and Costa Rica enjoying 0-0 draws in the once vaunted Azteca.
Mexico's inability to score against such defensive-mindedness has completely damaged the team's confidence and chemistry, prompted the firing of Jose Manuel "Chepo" de la Torre as manager, and throwed the team into crisis mode.  His replacement, Victor Manuel Vucetich, will no doubt have his hands full trying to restore confidence to a team that has only scored 4 Hexagonal goals in 8 matches.
That needs to change very soon, as Mexico host Panama at the Azteca on October 11th and travel to 1st-place Costa Rica 4 days later on the 15th for their final World Cup Qualification matches.  Facing elimination from the tournament, Mexico would be advised to play a very conservative game against Panama, bringing bodies forward only in a deliberate, intelligent manner that will not leave their defense so woefully exposed.  No doubt Panama will come ready to park that proverbial bus, hoping that Mexico falls for the same traps that they have recently fallen for against the US and Honduras.  Pressure will be placed on Mexico's defensive midfielders, so whoever Vucetich chooses to start in this position (whether Gerrardo Torrado, Jesus Zavala, or Rafael Marquez) will no doubt bear the the responsibility in managing the starts of attacks and providing an outlet when attacks are stifled.
For Mexico, it is simple:  win and stay alive.  Lose and stay home next summer.  Their ability to sneak around that bus is what will determine their ultimate fate.