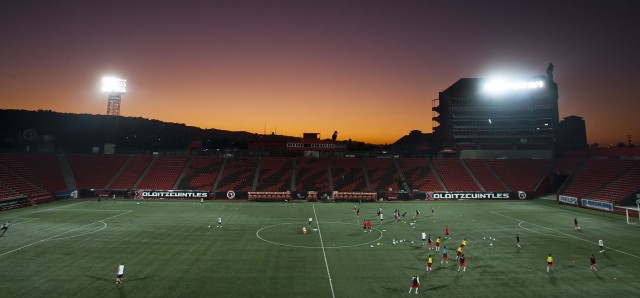 The Xolos Tijuana vs Queretaro match will take place this Friday, October 4, 2013 (7:30 PM Pacific) at the Estadio Caliente.  With Xolos struggling but undefeated at home, Queretaro travels to Tijuana in an attempt to earn a win which will put them deep into a playoff seed battle.  Meanwhile, Xoloitzcuintles have not won in 4 games, and a win is necessary in order to remain alive in the Liga MX.
The border team has been in terrible form 12 games into the season.  There has been many excuses as to their poor performances which include injuries, to the team attempting to accommodate to the tactics of coach Jorge Almiron.  Nonetheless, Xolos has been a terrible disappointment in this Apertura 2013, as they are nowhere near the team which Antonio Mohamed lead to a championship and the quarterfinals of the Copa Libertadores just months ago.
The team under Almiron has no spirit, they have no offensive mentality, there seems to be no leader, and sadly, the defense and set piece are no longer threats to opponents.  Against Queretaro, Xolos must end their 2 game losing streak, and their 4 games without a victory.  There is no space for anything else, because if Xolos aspires to compete for the 8th playoff seed, they are obliged to win at least 4 of their finals 5 games.
After a 4 game winning streak, Queretaro fell into a negative form which had them lost and tied in the past 2 games.  The team coached by Ignacio Ambriz is currently in 8th place with 19 points; only 1 point away from 3rd place Toluca.  Queretaro will face a tough opponent like Xolos who has not lost in all 6 games at home this Apertura 2013.
Xolos Tijuana vs Queretaro Prediction
The Xolos Tijuana vs Queretaro match is an important game for the locals as a loss, or even a tie, will almost eliminate them from any playoff contention.  Queretaro on the other hand are in a good position to escalate up to 6 positions were they to earn the 3 points.  In what will be a slow match, Xolos and Queretaro will have a difficult time on the offensive side.  The Xolos Tijuana vs Queretaro match will end in a 1-1 tie.
Xolos Tijuana vs Queretaro TV Schedule
The Xolos Tijuana vs Queretaro match will be televised this Friday, October 4, 2013 on ESPN Deportes and Azteca America at 7:30 PM Pacific.