The newest Chivas de Guadalajara acquisition, Aldo de Nigris, will be out with a knee injury for the first two months of the Liga MX season. The secrecy surrounding the Mexican striker's health status was broken when Mexican sports portal MedioTiempo, reported that Aldo de Nigris' injuries were worse than anticipated.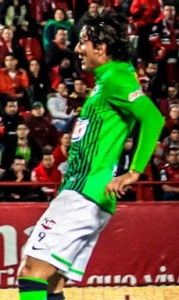 De Nigris injured his knee during a training session with the Mexican National Team in Brazil, where he was part of the squad participating in the Confederations Cup 2013. His knee injury is so severe, that De Nigris will have to undergo surgery (source: MedioTiempo), officially leaving him off the field for at least 2 months.
Vergara had acquired De Nigris at a cost of $6 million USD, hoping the ex-Monterrey striker would increase Chivas' offense. The loss of what was expected to be a key player in the lineup is a huge blow for Chivas, which will now be forced to play at least the first 4-5 games of the Liga MX Apertura 2013 without the De Nigris.
What does Aldo de Nigris' injury mean to Chivas?
The short answer: Chivas is in brig trouble.
The long answer: without De Nigris for at least half of the season, Chivas' offense is going to look exactly the way it did last season, when they scored just 15 goals. Marquez Lugo will be forced to generate and score most of the attacking opportunities for Chivas. Sabah struggled all season long, and was never able to provide the scoring volume that the team desperately needed. Marco Fabian is not really a player who is going to score a lot of goals, his role is more focused on generating opportunities through the wings. The several young strikers that Chivas has on the roster are still too 'green' to make a difference.
Unless Benjamin Galindo can find a way to make his team score this season, it will be another long, difficult road for Chivas fans. Other than confirming that Vergara will not sell Chivas this season, losing Aldo de Nigris to injury is the worst news a Chivas fan could have heard this off-season.