The Spain vs Tahiti Confederations Cup Group B match will take place on Thursday, June 20, 2013 (12:00 PM PST) at the Estadio Maracana in Rio de Janeiro.  In what will be the most lopsided match in the history of the tournament, the #1 FIFA ranked team, Spain, will play Tahiti, the #138 in one of the most majestic stadiums in the world.  Thursday's game will be a clear win by the reigning World Cup champions; however, the interesting spectacle will be to see how the courageous Tahiti will react in this David vs Goliath rematch.
Tahiti traveled to Brazil with the knowledge that they are the tournament's huge underdogs; the Cinderella team.  In their case, there is not much they will be able to do in trying to obtain a pass into the tournament's semifinals; however, semifinals are not the team's ultimate priority.  Their dream for this tournament was to obtain at least a goal, and they did so in their first match against Nigeria which ended in a 6-1 loss.  Nonetheless, Tahiti has to face a much stronger side on Thursday who has the capacity of scoring over 10 goals.
Tahiti is not focused on how much they will lose by, but rather, they are focused on raising their country's name throughout the world.  The match against Spain could be the most important squad Tahiti has ever faced, or will face for many years to come.  In this remake of David vs Goliath, Tahiti has no chance of winning, but their opportunity of playing world champions will go into that country's history books.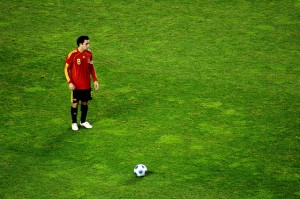 The 'Roja' won their first match against Uruguay, 2-1, in a game which became difficult to seal.  With those 3 points, Spain defeated the strongest opponent in Group B, and will now face Tahiti.  Understanding that Nigeria already defeated the French Polynesian squad, and that Uruguay will most likely do so, Spain needs to score enough goals in order to not lose the group on goal differential.  It will be interesting to see how aggressive Spain plays, or if they will play offensively and unselfishly throughout the whole 90 minutes.
Spain vs Tahiti Prediction
The winner of the 3 points in this match is a no brainer.  The biggest doubts are, who will Spain use in their starting lineup, and if they will score aggressively for 90 minutes.  Spain may rotate some players in order to have them healthy for their last match against Nigeria.  As for Tahiti, they will play a very defensive match with quick counter-attacks, as their goal for this match will be to score at least once.
The Spain vs Tahiti match will be very one-sided.  Spain is the nation with the best possession of the ball, and Tahiti will have a hard time preventing this.  The 'roja' will try to score more goals than Nigeria in order to take advantage in the goal differential.  The Spain vs Tahiti final score will end 8-0 in favor of Spain.
Spain vs Tahiti Television
The Spain vs Tahiti Confederations Cup 2013 match will be televised this Thursday, June 20, 2013 on ESPN and Unimas at 12:00 PM Pacific.