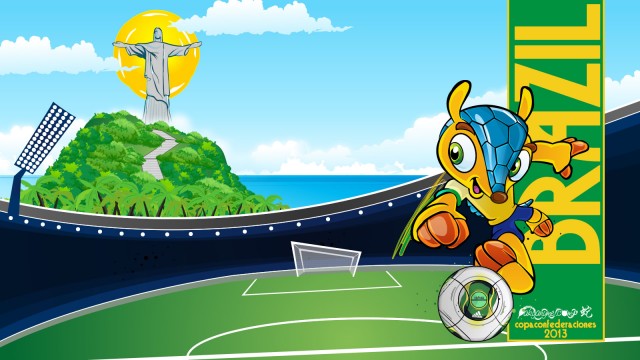 The Brazil vs Japan Confederations Cup match ended in a 3-0 victory for the host nation, which celebrated the first 3 points of the tournament in front of 70,000 fans in Brasilia. The match itself was somewhat uninspiring, there were few scoring opportunities on either side, the Japanese squad came out flat, and the fans weren't as rowdy as we had expected. Nonetheless, Brazil starts off the tournament on the right foot.
The first half saw Brazil dominate possession without creating too many scoring opportunities; the Japanese were glad to hold back hoping to counterattack. The only highlight of the Brazil vs Japan first half was an early goal (3rd minute), thanks to a brilliant strike by Neymar. The newly acquired Barcelona player blasted a beautiful shot from outside the box to score the first goal of the match.
The rest of the first half had few scoring opportunities for the Brazilians, and the Japanese never really tried to move forward on the attack. The second half started in the same fashion as the first, with an early goal by Brazil. In the 48th minute, Paulinho score off a shot that ricocheted off the Japanese keeper.
For the rest of the match, Brazil played a smart game where it dominated possession, never allowing the speedy Japanese attackers too much time on the ball. It wasn't until the last play of the match that Jo scored the third and final goal for Brazil. Although the 3-0 final score in the Brazil vs Japan match might appear to be a convincing display of Brazilian soccer, it truly isn't.
Yes, Brazil got the 3 points, but Japan was an uninspired squad that appeared to be star-struck. There was no jogo bonito, and the scoring opportunities were few and far in between. Brazil will have to play at a higher level if it expects to defeat Mexico and Italy, two opponents that won't give the advantages the Blue Samurai allowed today.
Enjoy more Brazil vs Japan Confederations Cup Highlights: