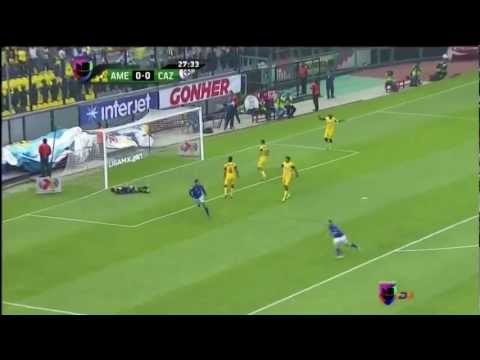 Club America played an exciting game in the semifinals of the Copa MX which ended in a win for the 'cementeros' in penalty kicks.  The game which was played this Wednesday, April 3, 2013 at a packed Estadio Azteca, was the best game the Copa MX has had to offer since its return to activity last year.
The first half was dominated by Cruz Azul who also scored the first goal of the match after a potent shot by Cristian Gimenez.  When the second half began, America was the better team, and even scored on a brilliant header by Narciso Mina to tie the game at 1-1.  Nonetheless, Cruz Azul played a defensive system based on the counter-attack leaving little room to Club America forwards Mina and Raul Jimenez.
With this significant win, Cruz Azul will now travel to Cancun next week to play in the Clausura 2013 Copa MX final against Atlante.  They will have a great opportunity to give their poor Liga MX a distraction, as a Copa MX title is slowly beginning to gain prestige.  On the other hand, America was the favorite squad coming into the game, however all this was lost when Aquivaldo Mosquera missed the game-losing penalty shootout.  This loss is a big disappointment for the team from 'coapa' because it means they were once again very close to a title they were unable to obtain.
Enjoy the America vs Cruz Azul highlights!
[youtube KbXP7kOdSz4]
[youtube 32OxcNU8qJM]
[youtube Rl7pgxgVOi8]