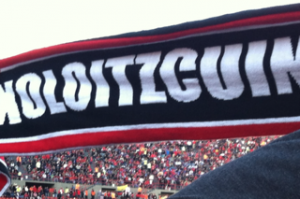 View the Xolos vs America 1-2 highlights here.
The Xolos Tijuana vs America 2013 match will have the reigning champs Xolos host an alive and powerful 'aguilas' at the Estadio Caliente this Saturday, February 9, 2013 (8:00 PM EDT).  Club Tijuana has not lost an amazing 20 straight regular season games while Club America has played like a 'big' team should.
The city of Tijuana is waiting desperately for the start of the game between the two teams.  Tijuana is a city that has turned largely in favor of the local team, however, there are still thousands that root for their lifelong team, America.  These TJ Americanistas, plus the fans that will cross the border into Mexico to watch the match, will create a loud, hectic atmosphere.  Ticket (re)sales on the internet can be seen to cost as much as $250 for a seat that is usually worth $45.  People are anxious for what is by far the game of the week, and one of the best in the season.
Antonio Mohamed's team will be without their forward Alfredo Moreno who is out with an injury for at least 2 weeks.  This will affect the system Xolos has played with for some time now, therefore it will be important to see if this affects their performance on the field.  Xolos is currently tied in 1st place with 13 points, and they want to prolong their perfect record at home by defeating America.
Club America beat Queretaro 3-0 last week in what was a great performance by Raul Jimenez.  The young forward already scored a goal against Tijuana at the Estadio Caliente during the Clausura 2012, and this Saturday will be a good test to try to score his 5th of the season.  America is on a good streak and they have been a top team this season, however, they will face their biggest contest of the season when they face the reigning champs in their undefeated home field.  In 3 matches between these 2 teams, America has been unable to beat Tijuana as they have tied twice and lost once.
Xolos Tijuana vs America Prediction
The Xolos Tijuana vs America 2013 match will be played in an incredible stadium atmosphere between two serious title contenders.  A must-watch game, which will have Xolos without Moreno and America with (possibly) Christian Benitez on the bench.  Tijuana has been undefeated at home for over a season and that streak will last.  The Xolos Tijuana vs America match will end 2-2.
Xolos Tijuana vs America Television
The Xolos Tijuana vs America match will be televised this Saturday, February 9, 2013 on Unimas at 8:00 PM Eastern.