The Morelia vs Leon Liga MX 2013 game will be this Friday, February 8, 2013 (8:30 PM EDT) at the Estadio Morelos.  Leon is in a complete free-fall after last season's successful season; Morelia is near the bottom of the standings as well. Both teams are in desperate need of points, and another loss for either could be a devastating blow to any playoff hopes.
Morelia traveled to Puebla last week and got pummeled by a score of 3-1; defeated by a mediocre team that hadn't been showing much all season long. Morelia's struggles are due to their lack of a true "9" (Sabah is now with Chivas), and a terrible defense that has allowed 9 goals in 5 games.
The bad offense and defense have combined to add up pretty bad numbers for Morelia, just 1 win, 2 losses, and 2 draws. However, there are still 12 games left to play, and Morelia has plenty of time to recover. A weakened Leon should be the perfect opportunity to gain the first home win.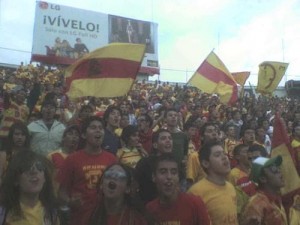 Leon is just terrible, after a fantastic 'rookie' season in the Apertura 2012, things have been awful for them. They already got knocked out of the Copa Libertadores, and out of 5 games in the Liga MX- 2 draws, 3 losses and 0 wins. Just 5 goals scored so far, incredible, this team was averaging 2 per game the past season. The defense is awful as well, having allowed 9 goals in 5 matches.
I believe that the terrible change in Leon is due to the addition of Rafa Marquez and Nery Castillo to the team. Two outsiders who have apparently broken the perfect locker room that Matosas had developed throughout the Ascenso MX and the Apertura 2012. Neither has played particularly well either, overall a negative net result.
Morelia vs Leon Prediction
Morelia needs to get its first home win, the fans want it and the players need it for a morale boost. Leon has been awful all season long and I don't see that changing during an away game.  The Morelia vs Leon 2013 match will end in a 2-0 win for Morelia.
Morelia vs Leon Television
The Morelia vs Leon 2013 match will be televised on Friday, February 8, 2013 (8:30 PM EDT) on Azteca America.