View the America 1-2 Atlas highlights here.
The America vs Atlas 2013 match will be held at the Estadio Jalisco in Guadalajara on Saturday, January 26, 2013 at 10 PM Eastern. This Clausura 2013 week 4 match will pit the hottest team in the Liga MX, against an Atlas squad that is desperate to earn home points. Will America continue its incredible winning streak?
America is soaring high, it has played 3 matches in the Liga MX, and 2 in the Copa MX, and has won them all. America has scored a total of 13 goals in those 5 matches, and only allowed 2 goals. Quite impressive, even if the teams on the other side aren't: Monterrey, Jaguares, Atlante & Altamira (twice). Nonetheless, America has done its part (with a little help from the refs) and convincingly won all of its matches.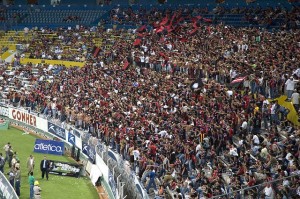 Club America's success is due to its outrageously strong offense, which has clicked and is playing well. Having players like Benitez and Mina is a huge boost of course. Furthermore, El Piojo Herrera knows that he is expected to win the Clausura 2013, any other result might end his tenure as head coach. He's stepping up to the challenge. Now, America must travel to Guadalajara to face a team that is fighting for its life. It will be America's toughest game so far, and an away win here will prove that America is the real deal.
Atlas is in a struggle to the death with Queretaro, whichever team ends with the least amount of points this season will be relegated to the Ascenso MX. Currently, Atlas has 1 less point than Queretaro, which adds a little bit of extra pressure to this game. Atlas always seems to struggle in away games, and it is thus imperative that they win as many home games as possible- losing is not an option.
However, to further aggravate things for Tomas Boy and his squad, Atlas is dealing with tax issues. This week, the Atlas bus which transports the players to the training grounds, was impounded by Hacienda (the Mexican IRS). It's hard to gauge if this outside pressure will affect the team, or if Atlas will overcome this and play a good match.
America vs Atlas 2013 Prediction
Herrera knows that his team is playing well, and he will want to continue his winning streak against a perceived weaker opponent and relegation candidate. America will go on the attack early on, and will try to overwhelm the Atlas defense. Tomas Boy is in a difficult position, he wants to win, but has an outstanding opponent in front of him. If he opens Atlas too much to attack, he risks being counterattacked to death. I believe he will play it safe and set a defensive formation, hoping for the best. The America vs Atlas match will end in a 2-0 away win for America, which will continue its winning streak.
America vs Atlas 2013 Television
The America vs Atlas match will be shown on Univision Deportes on Saturday, January 26, 2013 at 10 PM Eastern.
View the America 1-2 Atlas highlights here.