View the Santos 2-0 Leon highlights here.
The Santos vs Leon 2013 match will be held at the TSM Corona this Friday, January 25, 2013 at 10:30 PM Eastern. Santos is looking to add its second win of the season, while Leon is still looking for the first win. Who will win this Clausura 2013 week 4 match?
Santos has had a very mediocre start, in its first three Liga MX games it has earned 1 win, 1 draw and 1 loss, for a total of 4 points earned so far. Santos struggled during both of its away games, barely getting a 1-1 draw with San Luis, and losing 2-1 against Puebla last week. In its only home game so far, Santos was superior to Chivas and defeated them 2-0.
Will we see a strong Santos that gets encouraged by the home crowd, or the away match Santos that struggles against supposedly inferior teams? If Santos continues playing away matches badly, it certainly can't afford to drop points at home, expect them to go out looking for a win.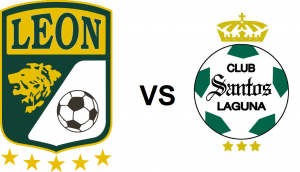 Leon has had a very bad start of the season. In the Liga MX, it has already lost twice, and drew once. In the Copa Libertadores, Leon drew 1-1 at home against Chilean side Iquique, severely hurting their chances to move on to the group stage. Thus, just 2 draws out of 4 matches, and no wins. Worst of all, Leon is averaging just 1 goal per game; a big loss for a team that averaged twice that in the Apertura 2012.
However, it's not all bad in Leon. During the mid-week Copa Libertadores match against Iquique, Matosas found a way to motivate his players, which finally showed some of the exciting soccer Leon played last season. Down 1-0 early on, Leon went on the attack and had 6-7 clear scoring opportunities, completely dominating the match. The end result was a disappointing 1-1, but that match might be just what Leon needed to wake up.
Santos vs Leon 2013 Prediction
Both teams are looking for the three points, coming off of losses, they want to recover. Santos will play the usual offensive style it plays at home, while Leon will also go on the attack. Expect an exciting match with plenty of scoring opportunities. For the Santos vs Leon match, I'm going to predict an upset, I believe Leon will take a 2-1 away win.
Santos vs Leon 2013 Television
The Santos vs Leon match will be televised on Univision Deportes this Friday, January 25, 2013 at 10:30 PM.
View the Santos 2-0 Leon highlights here.