View the Pumas 1-2 Xolos highlights here.
The Pumas vs Xolos Tijuana 2013 match will be held at the Estadio Olimpico Universitario in Mexico City on Sunday, January 20, 2013 at 1:00 PM Eastern. This Clausura 2013 match pits a weak Pumas squad, against an undefeated Tijuana team that is still playing as well as it did in last season's championship run. Will Xolos continue its winning streak, or will Pumas finally win?
Pumas has had it rough these first two weeks of the season. After facing both relegation candidates (Atlas & Queretaro) in weeks 1 and 2, Pumas came out with just 1 point. To further aggravate the situation, Pumas lost a mid-week Copa MX match against Ascenso MX opponent, Merida. To put it plainly, Pumas has not had a good start to the season, and needs to do something quick, a loss against Xolos would put the institution at risk of having yet another bad season.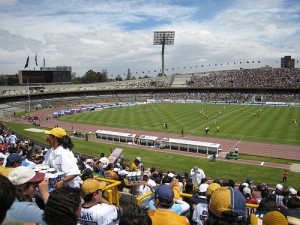 Last week against Queretaro, Pumas lost because it lacked something that Queretaro overflows with, love for the shirt and a deep desire to win. Apparently, Pumas players have been affected by the coach carousel they have been subjected to these past 6 months. I truly believe that Pumas will not recover until coach Torres Servin is replaced, and a long-term plan is established with a credible head coach.
On the other hand, Xolos has been doing quite well, winning its first two games away at Puebla and at home against Leon.  At Puebla, Tijuana played a good first half, and waited out the second half to earn the 2-1 away victory and the three points. Against Leon at home, Xolos was outstanding and erased Leon from the field, the score could have easily been 3 or 4-0, instead of just 1-0. Xolos has kept up the great level of play that led them to the Apertura 2012 title.
Tijuana's success is due, once again, to an incredible defensive system that successfully stifles all opposition. When this great defense is added to Tijuana's fast offense (Riascos and Fidel Martinez), you can see that Xolos possesses a powerful team that can counterattack anyone into submission. Already this early in the season, Tijuana is looking like a good candidate to once again win the title.
Pumas vs Tijuana 2013 Prediction
The Pumas vs Tijuana match will not be close, I believe that Xolos will play its usual game: solid defense combined with quick attacks through the flanks. Pumas will do what it has been doing the past couple of seasons: kind of defend and pump the ball up front in hopes of making something happen. The Pumas vs Tijuana match will end in a 2-1 away victory for Xolos.
Pumas vs Tijuana Television
The Pumas vs Xolos match will be televised on Univision this Sunday, January 20, 2013 at 1PM Eastern.
View the Pumas 1-2 Xolos highlights here.