Now that the regular season of the Apertura 2012 is over, we are left with the top 8 teams who will compete to become this season's champions; these are Toluca, Tijuana, Leon, America, Morelia, Cruz Azul, Monterrey, and Chivas.  From these, Monterrey and Chivas qualified with a poor 23 points which lead us to imagine they have poor chances of winning this season's title.  However, the other six jump into the postseason in great form and could provide us with great quality soccer and excitement.  Therefore, who is the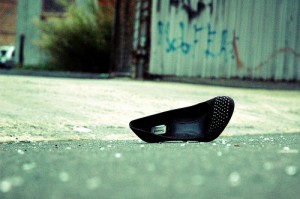 favorite to win the Liga MX playoffs?
Cinderella Story? – Lets not kid ourselves :
As previously mentioned, Monterrey and Chivas are lucky to be in the 'liguilla' because 23 points means they were under the .500 productivity.  This is like a 7-9 team in American football winning the Super Bowl.  Monterrey has probably the best fans in this postseason and Chivas of Guadalajara is the most popular, but sadly for them these teams have underperformed all season.  While Chivas still lacks talent, balance, and continuity, Monterrey looks out of form in the offense.
Prediction:  Monterrey has a better chance of getting past the first leg, but that's about it; no titles here.
Leon – The Real Cinderella Story :
The 'panzas verdes' do not need to win the title to become a Cinderella story; in fact, they could lose both games in the first round and they will be called a Cinderella story.  It is outstanding how a team in its first season back into the first division has qualified to the playoffs, won a ticket to next year's prestigious Copa Libertadores, led the league in goals, had sold-out stadiums, and most importantly demonstrated great soccer.  Leon did all that, and more in its first months this season, and they are a real threat in these playoffs.
Prediction: Winning the championship would go into the history books, however, this is a team that may lack postseason mentality, and although they will not go out easily, I do not see them getting past Cruz Azul.
La Maquina Azul, Azul! :
Cruz Azul finished the regular season in 6th place, still in the group of the best performing teams in this postseason (not Monterrey or Chivas).  This is a team that performed considerably well in the second half of the season, however, they lacked offensive foundations in the last two games.  Cruz Azul is very good in the midfield and defense, but for some reason, they are irregular on scoring goals.  This will be crucial in the playoffs because if they are an offensive threat, then they will also be a championship threat.  However, if the goals do not come, there are better defensive squads out there who can out-play them.
Prediction:  Cruz Azul is restless for another title, and this squad has the talent, devotion, and form to do so. I see them defeating Leon in an exciting series, and even reaching the final, but we will have to see if their curse will be gone by then.
Maybe, just Maybe :
Monarcas Morelia has been a regular team throughout the Apertura 2012, but in the last couple of weeks this team came together offensively and defensively.  This is a team that not a lot of critics mention as a favorite to win the league, however, they posses two great wingers in Joao Rojas and Jefferson Montero, while veteran forward Miguel Sabah has been a scoring machine of late.  The issue with this squad is that they are not capable of winning many games.  Yes, they only lost two, but tied nine, and in the playoffs tying will not be enough to become a championship team.
Prediction:  This team faces Club America who is a very tough opponent, and although they will give a good fight, they will lose and their season will be over after next Saturday.
'Sir' Miguel Herrera? :
Coach Miguel Herrera has done a great job in 'coapa'; this season Club America has been a real threat in all areas of the field returning its identity to a team that is known for a lot of goals, and many championships.  Question is, can Miguel Herrera win the 11th title for this prestigious team and begin a long coaching era in this club similar to that of Sir Alex Ferguson in Manchester United?  Well, America fans would really hope so, but this team still has much to prove.  America is almost always in the playoffs, always a top favorite, but 10 titles in almost 100 years of existence for this 'big' team is mediocre and poor.  America is once again a big favorite, but fortune goes against them almost 9 out of 10 times, and unless Herrera starts winning them now, he will be far from the 'Sir' title.
Prediction:  If fortune does not fool the team from coapa once again, then America will reach the grand finale.  They are well talented, and are playing with great offensive power.  If they reach the final, they are my team to win this tournament.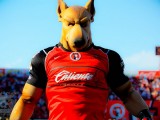 WARNING, Guard Dog on Duty :
The Xolos of Tijuana have been on the rise ever since they set foot on the Liga MX; this will be the second straight playoffs appearance after three seasons in the first division.  This team is like a dog that does not bark, but be careful of his bites.  No real offensive threat, does not have a powerful squad nor a lot of depth,  yet, they only lost one game all season while being undefeated during the last fifteen games.  Club Tijuana is a team to be aware of because although they do are not dynamic, they obtain good results through balance, defense, and their coach, Antonio Mohamed.
Prediction:  One of the favorites for the title, I see them defeating Monterrey in the first round which will serve as a vengeance for last season's playoff defeat.  Sadly for the border team, they lack some goals and will lose against America in the semifinals.
Welcome to hell :
The Red Devils, also known as Toluca, ended the season in first place and by technicality are clear favorites to win the title.  Toluca has been great offensively ever since Panama forward Luis Tejada joined the team.  Many players in this squad know what it is to win a championship, therefore mentality will not be a factor if they were to get eliminated.  Toluca has a great midfield which is crucial to having advantage in possession of the ball, but what could be this team's weakness is the defense.  This team allowed a fair 17 goals, but other than that, Toluca is a well-balanced team who could be this year's champs.
Prediction: Toluca is superior to Chivas and will defeat them, while against Cruz Azul they will have to play a perfect game.  It is very rare in Mexico for the number one seeded team to win the title, and since it happened last season when Santos Laguna won, I do not see it happening on this one.  They will lose against Cruz Azul in the semifinals.
FutnSoccer Playoffs Prediction:
The will no Cinderella story, no big surprise, and no under-dog winning.  Cruz Azul and America are two teams that will enter the playoffs in very good form, and team prestige will play a role in this season's championship run.  My prediction is a final between the two Mexico City teams with America winning its 11th title. 
What is your take on this? Share your view and prediction: