View the Pachuca 1 – 1 Leon Highlights here.
The Pachuca vs Leon match will take place on Saturday, October 6, 2012 at 8:00 PM EDT at the Estadio Hidalgo. Pachuca is a team that has been consistently inconsistent, although it has never really looked good in any particular match. Leon, on the other hand, is the surprise team of the tournament, the new kids on the block were expected to fight off relegation, not the first place spots. Is Hugo Sanchez capable of leading his team to victory against a very tough opponent?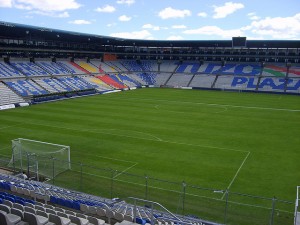 Pachuca sometimes wins, sometimes draws, and sometimes loses: however, it never looks like a solid team that has a clear playing style. Pachuca currently finds itself in the 12th spot of the standings with 13 points, and with an urgent need of a win if it wants to stay within striking distance of a playoff spot. Another issue with Pachuca is its anemic offense, with just eight goals scored in 11 matches. Quite shocking, considering Pachuca spent quite a bit bringing in players like Tamudo and Nery Castillo from Europe.
If you ask me what the problem is with Pachuca, I would answer with two words: Hugo Sanchez. Sanchez was given arguably the highest transfer budget of the season, and he spent it, and he even got to bring in his buddy Nery Castillo. Still, even with all that, Pachuca has looked worse than it did last season, when it made it to the playoffs. I believe Hugo Sanchez has been unable to replicate the success he had at Pumas (where he was the motivational guy and Carrillo the tactics guy), because he simply isn't that great of a coach.
Now on to Leon, led by a contender for coach of the season, Matosas. About the only bad thing you can say about this team is that a small section of its fan base is violent. The squad itself has been fantastic, playing an offensive style no matter what stadium they are in, always looking to earn the three points. Leon has achieved back-to-back wins, and will be looking for a third in a row against the "Tuzos".
As a side-effect of its offensive stance, Leon has the most prolific offense in the Liga MX, with 20 goals scored in 11 matches. This has allowed them to claim the third spot in the standings with 20 points, and an extremely high chance of making the playoffs. Furthermore, if Leon can maintain itself in the first three spots, not only will it earn a playoff berth in its first season back to the Liga MX after a 10 year hiatus, but it would also earn a spot in the Copa Libertadores. Surely, Matosas has been motivating his players with these nuggets of information.
Prediction: The Pachuca vs Leon match will pit an inconsistent team against the best offense of the Liga MX. Pachuca has been bad at scoring all season long, and I don't believe they will change that against Leon. Club Leon has been playing an attacking style at every stadium, there is no doubt they will be looking for the win at Estadio Hidalgo as well. The Pachuca vs Leon match will end in a 1-2 victory for Leon, which will solidify its chances for a playoff spot.
Television: The Pachuca vs Leon match will be televised on Saturday, October 6, 2012 at 8:00 PM EDT on Telefutura.