The Cruz Azul vs America match will be held on Saturday September 22, 2012 (6:00 PM EDT) at the Estadio Azul. The clasico joven is a Mexico City derby that features two of Mexico's most followed teams (though not necessarily successful in recent times). Both Cruz Azul and America currently find themselves with 13 points, product of three wins, four draws, and one loss (identical results). Who will win this edition of the clasico joven?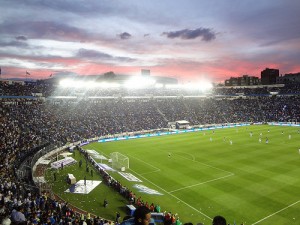 Cruz Azul and America have identical points and results so far, however, they have one difference that really distinguishes both of them (another similarity is that they were both knocked out of the Copa MX this week). Club America has scored 14 goals in eight matches, Cruz Azul has only scored six goals. On the defensive end, Cruz Azul holds the best defense so far, with only five goals allowed. America isn't too far off with only seven goals allowed. Thus, this match will hinge on whether Club America can break through Cruz Azul's defense, or if Cruz Azul can break out of their offensive rut and actually score a couple of goals.
Cruz Azul is coming off a 2-0 loss at Tigres, a game that ended their undefeated streak. Cruz Azul was exposed in that match, Tigres dominated throughout the game and further exposed their offensive struggles. Against America, Cruz Azul is going to have to step it up and go on the attack, or the best they can hope for is a draw. Another interesting point to take a look at is that Cruz Azul is yet to win at home. Cruz Azul has tied its four home games, scoring only two goals in all four games. Guillermo Vazquez has done an excellent job establishing the defensive side of the team, but he has to open up his defense a bit to allow for a more fluid attack.
Club America defeated Santos 2-0 last week in what was arguably their best match of the season. Club America had its first match where they actually played as a unit, a team, rather than a group of individuals. If Miguel Herrera can keep up the unity we saw in America in the match against Santos, you can expect America to become a strong contender for the championship. If we take a look at their away results, America is yet to lose a game, in fact, their only loss this season came at home against league leading Xolos.
Check the Liga MX standings here
Prediction:  The Cruz Azul vs America match is looking like a draw. Cruz Azul has an anemic offense and is yet to win at home, however, they do have the best defense in the Liga MX. Club America is coming off of their best game of the season and has the second best offense in the Liga MX. I foresee Cruz Azul playing another defensive formation that will struggle at the attack. Club America will play a somewhat offensive game without risking too much. The end result will be another home draw for Cruz Azul.  The score will be Cruz Azul 1-1 America.
Check out the Liga MX TV schedule!
Television:  The Cruz Azul vs America game will be shown on Azteca America and ESPN Deportes this Saturday September 22, 2012 at 6:00 PM EDT.