The Morelia vs Tigres 2012 match will pit two teams that are exactly identical in the Liga MX standings: both teams have three wins, three ties, two losses, 13 goals scored and nine goals against. The only difference between these two teams is that one is on the upswing while the other is stagnating. The Morelia vs Tigres match will be played on Friday, September 21, 2012 at 10:30 PM EDT at Estadio Morelos. Will Morelia recover from its two game losing streak?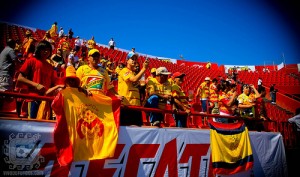 It's rare when you have two teams that are exactly identical in all stats, it makes you look deeper and see where the differences lie. Well, the differences are in the recent results. Morelia is coming off back to back losses against Pumas and Pachuca (and being eliminated from the Copa MX as well). Before those two matches, Morelia was undefeated and fighting for a top spot in the Liga MX standings.
Tigres is coming off an impressive home win against Cruz Azul, where they effectively destroyed the last remaining undefeated team in the Liga MX. Things before that win weren't so great for Tigres, they had a five game win-less streak. El Tuca appears to have taken advantage of the long break (FIFA Match days) to re-focus his team. The visit against Morelia will definitely be a good test to see if Tigres has recuperated its high level of play.
Now, thanks to the accommodating structure of the Liga MX, both these teams are just one point away from a third place spot, and if certain results align, the winner of this Morelia vs Tigres match could push up to the third spot. Furthermore, both of these teams are strong playoff contenders, who will only be getting better as the season continues. Both had made an appearance in the playoffs the last three seasons in a row, and I would expect to see both of them there for a fourth consecutive time.
Prediction:  The Morelia vs Tigres 2012 match will be a great match to watch. It is featuring two of the most consistent teams in recent Liga MX history, and both will be looking for a win that will keep them in playoff contention. I expect a tight match where Tigres will come in and play a defensive formation. Morelia is seeking to stop its two-game losing streak, and will happily settle for a draw against a tough opponent. Both teams will play to a tight draw that leaves both relatively happy. The score will be Morelia 1 – 1 Tigres.
Television: The Morelia vs Tigres game will be shown on Fox Deportes and Azteca America, this Friday at 10:30PM EDT.