Pumas will be receiving Cruz Azul for week 6 of the Liga MX at Estadio Olimpico on Sunday, August 26 at 10:00 AM PST
Pumas with a complicated task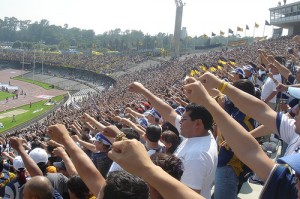 Pumas will not have an easy game, as hosting Cruz Azul is always a difficult task. Del Olmo has not yet found the balance and stability the team needs. Last week against Santos, Pumas won because of the mistakes and errors Santos made, and perhaps the only good outcome from the game other than the 3 points, was that Emmanuel Villa found the net twice, thus boosting his confidence and participation with his teammates. Villa will be playing against his old team, something that makes this game extra-interesting.
Players like Martin Bravo and Javier Cortez will be important to move forward, due to their velocity and their passes to strikers. Martin Bravo seems to move better playing from the mid-field up rather than staying in the front line. It is unknown whether Luis Garcia will be starting, as he did not play either the game vs Santos or the game against Merida in the Copa MX, which Pumas lost due to the poor planning by Del Olmo.
Cruz Azul's Vazquez returns home
There is much expectancy about this game, due to the return to Estadio Olimpico of former Pumas players like Pablo Barrera, Israel Castro and their coach Guillermo Vazquez: all returning to the field that saw them hold up a championship trophy for Pumas. Certainly, Vazquez has not had bad numbers with Cruz Azul, as the team is still undefeated. Cruz Azul is a team that has no problems visiting Estadio Olimpico since it is within Mexico City.
Players like Pavone, Barrera, Aquino and Corona will be basic for this match that always gets attention from the media. Barrera is starting to gain back the fast game that once catapulted him to the Premier league. Also, lets not forget Perea, who is a strong defender and is starting to show why he was an elite player in La Liga's Atletico de Madrid.
Prediction: This will be a rough game, fast going back and forth; seems like Pumas will be missing goalkeeper Palacios, and Patiño will have a tough test as his replacement. My best guess is a 1-1 draw.
Television: The Pumas vs Cruz Azul match will be shown this Sunday, August 26th at 10 AM Pacific on Univision.