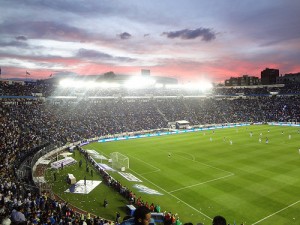 Cruz Azul will host the super-hot, surprising and inspirational Leon at Estadio Azul on Friday, August 17, 2012 at 10:30 PM EST.  Leon has won three out of its first four matches (very convincingly I might add), and its only loss was a close game against the first-place team Toluca. Cruz Azul hasn't been playing pretty, but they know how to get the results; they are still undefeated, with two wins and two ties. This will be the best game of the week.
During Week 4, Cruz Azul visited a weak Puebla team, and barely scraped out a win against a Puebla squad that played with 10-men for all of the second half. Mariano Pavone scored a late second half goal to give Cruz Azul the minimum 0-1 win. This has pretty much been the way Cruz Azul has been playing so far, playing good defense and being opportunistic on offense. With only one goal against in four matches, Cruz Azul has proven that any team would struggle scoring on them: Leon will not be the exception.
Leon has defeated Queretaro, Xolos, and Santos, scoring 9 goals along the way; Leon's sole loss came at the hands of Toluca. What Leon has done is no easy accomplishment, specially considering they are the "new kids in the block". Leon plays with an intense motivation, every single moment of every match. I expect Matosas will keep his team focused and motivated in their match against Cruz Azul. Even this early in the year, I can foresee that Leon will not be in the relegation battle (that honor is reserved for Atlas, Queretaro and Puebla).
Prediction: Cruz Azul knows how to defend, and they know how to do that very well. They also have key attackers like Pavone who can score with a minimum of opportunities; thus, Cruz Azul is a tough challenge for any team. Leon is an amazing team, full of vitality and just a pure pleasure to watch, no matter what team you root for. However, I expect that they will struggle against the Cruz Azul defense, resulting in a tight match at Estadio Azul. The match will end in a well-deserved draw for both teams.  The score will be Cruz Azul 1 – Leon 1.
Television:  The Cruz Azul vs Leon match will be shown on Fox Deportes at 10:30 PM EST this Friday, August 17th.