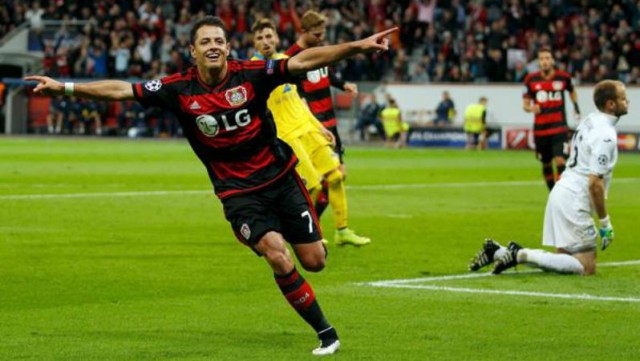 Tottenham set a record under former manager Andre Villas-Boas back in the 2012-13 Premier League campaign, as their then club record of 72 points at the end of the season was the highest points tally ever achieved by any topflight club to finish outside the top four.
A poor start to the following campaign saw the Portuguese leave the north London outfit 5 months later, and he has recently revealed things might have been different had he managed to land now West Ham striker Javier Hernandez during his 18 months at White Hart Lane.
Chicharito wasn't a regular starter during his time at Manchester United, as he had to play second fiddle to Wayne Rooney and Robin Van Persie later on.
Villas-Boas promised the Mexico international more playing time at Tottenham, hoping that could help lure him to north London, but Chicharito insisted on remaining at Old Trafford in order to continue fighting for opportunities.
"I was close to signing Chicharito, I still have a very good relationship with him," Villas-Boas recently told ESPN in an exclusive interview.
"He always said: 'Coach, I'm going to fight for my position [at United] and I'll fight until the end.'
"I told him that he should give me an opportunity that he should come, but no. He believed in himself a lot and that also excited me.
"In the end we weren't able to come to an agreement."
Villas-Boas finally went for Roberto Soldado after failing to land Chicharito, and the Spaniard failed to hit the ground running upon arriving to England.
A poor run of games, which left Spurs lying 7th on the log, saw the former Porto and Chelsea manager leave the club by mutual consent in December 2013, and he still imagines to this day what could have been if he had Mexico's highest goalscorer of all time leading his line.
Chicharito finished that season with 10 goals in 22 league games, before leaving on loan for Real Madrid in 2014–15.
The 29-year-old scored 7 La Liga goals before he left permanently for Bayer Leverkusen, where he returned 28 goals in 54 Bundesliga league games.
Villa-Boas, currently out of work since leaving Chinese Super League club Shanghai SIPG last November, might have likely seen out his 3-season contract at Tottenham if he had the services of Chicharito.
Revealing why he still admires the Mexican till date, the Portuguese explained: "[What stands out] as a player [is] his ability to lose his marker, to be in the right place to score a goal.
"That is what interested me most, as well as his speed in space.
"As a person, everything was excellent and I realized that when we spoke.
"It's important for a coach to have [players] that they can relate to in a direct way and I felt that sensation with him."
Chicharito could leave West Ham by summer if he's not guaranteed regular playing time and should Villa-Boas get a big managerial gig soon, he's likely to convince the veteran hitman into joining him, having also tried to during his time at Zenit Saint Petersburg.