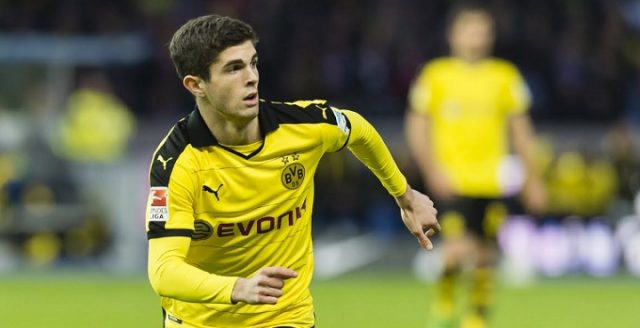 The Daily Star have transmitted the words of renowned journalist Duncan Castles regarding the potential interest from Liverpool in Borussia Dortmund winger Christian Pulisic whose price tag is set at £61 million.
The Merseysiders are active on the market, searching for a high-quality reinforcement.
Numerous players have been listed as potential candidates to replace Philippe Coutinho, including Thomas Lemar, Riyad Mahrez, and Luan Vieira.
However, Castles believe that Jurgen Klopp might be looking for the 19-year-old Pulisic, who is considered as one of the most promising young talents in European football.
"Liverpool are also looking for another player in a similar category," he said. "Not a striker but for that second line of attack – Christian Pulisic.
'That would be summer move from Borussia Dortmund. That would be a lot more expensive than Luan, in the region of €70m (£61m)-plus. So they are exploring options there."
The American international is known for his pace and acceleration, combined with exquisite technical skills and tactical intelligence. Despite the young age, he is already an established first-team player for BVB for the last two seasons.
The Reds will have to allocate a significant amount of money if they want to secure Pulisic's services, as the German heavyweights won't renounce their jewel without a fight.