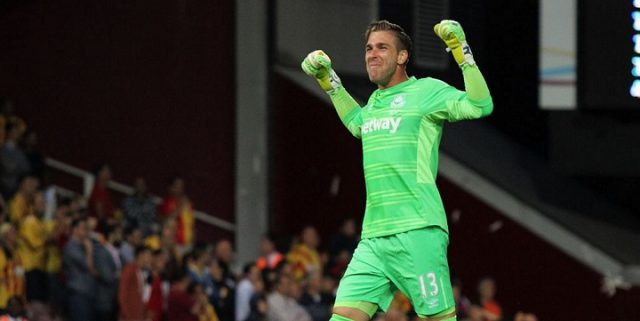 West Ham goalkeeper Adrian has indicated that he would like to end his career with the club.
After returning to the first choice position as keeper of the Hammers ahead of Joe Hart, Adrian has been impressive in goal during which he has kept three clean sheets which have helped the club climb out of the relegation zone.
The 31-year-old has indicated that he is giving is all and could like to continue playing for the club with whom he shares a special bond.
Adrian was impressive during the 2015-16 season and played a key role for the club as they ended up finishing off in seventh position.
After starting shaky last season, he lost his first-choice position to Darren Randolph but ended up winning it back towards the end of the season.
He also lost his position to Hart at the beginning of this season but has yet again won it back.
"It's one of my wishes to finish playing here at West Ham. I played the last five seasons here and 114 games in the Premier League, even more in the cup," said Adrian, who could make his ninth consecutive Premier League appearance at Huddersfield Town on Saturday.
"My contract expires at the end of next season, then we have to decide. I am now 31 and can probably still play for a long time. So why not West Ham?
"I am very happy here in London and at this Club. I have a special relationship with the fans from the beginning of my time here. Now I have to enjoy playing and give my best every week until the end of the season to stay in the Premier League and to finish in the highest position possible."