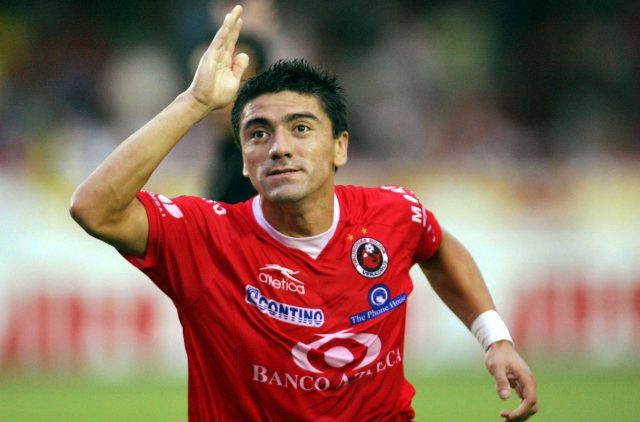 Hector Mancilla just officially called it a career after nearly 17 years as a professional footballer. The Chilean striker was honored this past Saturday in a commemorative match with some of his fellow teammates at the Estadio Universitario. Mancilla spent over a decade in Mexican football and became one of the most prominent goalscorers to ever grace the league. Here is a starting XI featuring his ex-Liga MX teammates, it is not meant to be the best starting lineup but it is a very intriguing one. The lineup will be in a 4-4-2 formation with a goalkeeper, four defenders, two central midfielders, two wingers and two strikers, it will also feature at least one player from each of the teams he played within the Liga MX.
GK: Hernan Cristante
There is nobody else that could have filled in the goalkeeper spot other than the legendary Toluca keeper Hernan Cristante. The Argentine is now the manager of Los Diablos Rojos but at one point he was arguably the best goalkeeper in the Liga MX. Cristante was part of five Liga MX championship teams with Toluca, one did come with Hector Mancilla in the Apertura 2008.
Def: Miguel Layun
Before his stardom in Europe and with the Mexican national team, Layun started off his career with Veracruz. Mancilla played with Los Tiburones Rojos from the Apertura 2006 to the Apertura 2007, where he was teammates with a teenaged Miguel Layun. While the Mexican international received limited playing time with Veracruz, Mancilla managed to score 15 goals in three tournaments with Los Escualos.
Def: Paulo da Silva
The eternal Toluca captain had to be part of the backline as he was also teammates with Mancilla on the Apertura 2008 championship team. The Paraguayan international is an icon in his native Paraguay, Toluca and the Liga MX in general. On his day he could hold off even the quickest forwards with his commanding physical presence and his leadership skills are a rare quality that was essential to Toluca's success.
Def: Joel Huiqui
The Starting XI could not have just been comprised of Club Legends and Mexican internationals it also had to have some characters like Joel Huiqui. The Mexican centre-back is a legend in his own right and was actually even captained the Mexican national team but he will be remembered mostly because of his very distinct physical appearance. In all fairness to him, he was a very decent defender as he had immense strength and showed grit in every game that made him a consistent starter throughout his career. Huiqui played with Mancilla at Monarcas Morelia, where the Chilean managed to score 22 league goals from the Clausura 2013 to the Clausura 2014. Both were part of a Copa MX title-winning team in the Apertura 2013 and even played in the Copa Libertadores as well. The 34-year-old defender is still going strong as he recently joined the Las Vegas Lights in the United Soccer League.
Def: Joel "El Tiburon" Sanchez
Based on his nickname it is safe to assume that Sanchez played with Mancilla at Veracruz, well he did but that is not where his nickname stems from. "El Tiburon" only played 71 games with Veracruz and did not do anything noteworthy to merit that nickname. Sanchez's nickname stems from his physical appearance, which is not really a compliment but he did have a very solid playing career that spanned nearly two decades. The Mexican centre-back spent the best days of his career with Chivas de Guadalajara but is also one of the few players that have played with both Chivas and Club America. Sanchez was also on the Mexican national team from 1996-2001 and was even part of the historic squad that won the FIFA Confederations Cup in 1999. Sanchez was very comparable to a player like Carlos Salcido, gifted defensively but not blessed with the best height as Sanchez stands in at 5-foot-9. "El Tiburon" clearly still loves the beautiful game as he is currently pursuing a coaching career in Mexico.
Mid: Damian Alvarez
Some outlets have Alvarez as retired while others are even linking him to a move to Pachuca but it seems like the 38-year-old is ready to call it a career. Alvarez had an outstanding Liga MX career from 2003-2017 playing with Monarcas Morelia, Pachuca and Tigres UANL. The Argentine winger has had one of the most decorated careers in the Liga MX as he has been part of 13 total championships with Mexican teams. The 5-foot-5 midfielder was one of the initial pieces of the Tigres' dynasty that is still relevant today, along with players like Hector Mancilla and Lucas Lobos. Alvarez and Mancilla created a spectacular attack for Tigres UANL in the team's Apertura 2011 championship winning team and will be remembered fondly by the fans in the north.
Mid: Fernando Arce
"Mancigol" had a very brief stint with Dorados de Sinaloa in the Apertura 2015 tournament and was not blessed with the most notable teammates. The Chilean striker scored just two goals in seven games as a starter as his career was nearing the end of it. Another player that was nearing the end of his career on that Sinaloa team was midfielder Fernando Arce and there is no doubt that he was Mancilla's most talented teammate in his stint with the team from Culiacan. The Tijuana native consistently received calls to the Mexican national team and was part of two championship teams in the Liga MX. One with Santos Laguna in the Clausura 2008 and another with Club Tijuana in the Apertura 2012. His playing career spanned 16 years as he was renowned for being a very smart and creative midfielder, he now forms part of Club Tijuana's front office.
Mid: Sinha
This team already has Hernan Cristante and Paulo da Silva and it would not be complete without Antonio Naelson Sinha. The Brazilian midfielder is another player that made his mark in Toluca as he spent nearly two decades with the team and made over 500 appearances. Sinha was part of five league-winning teams with Los Diablos Rojos including two with Hector Mancilla in the Apertura 2008 and Bicentenario 2010. The South American playmaker had an illustrious career, even playing for the Mexican national team and is now part of Toluca's front office.
Mid: Jefferson Montero
The Ecuadorian winger had some magical moments in his stint with Monarcas Morelia from 2012-2014. Montero and Mancilla comprised a very dangerous attack for La Monarquia that would go on to lift the Apertura 2013 Copa MX title and participate in the Copa Libertadores. The speedy winger went on to play for Swansea City after his stint with Morelia and is currently on loan with Spanish team Getafe. He is still a very talented player that deserves to get consistent playing time and a move back to the Liga MX could be in his imminent future.
Striker: Vicente Matias Vuoso
"El Pistolero" only played one season with Atlas in the Apertura 2012 tournament and he was decent scoring six goals in 17 games. That Atlas' team had a very intriguing squad that featured players like Sergio Santana, Luis Alonso Sandoval, Lucas Ayala and Vicente Matias Vuoso. The Argentine striker was in the latter half of his career at this point after having major success with Santos Laguna and Club America. Like Mancilla, Vuoso is one of the best foreign strikers that has ever played in the Liga MX and he is still going strong now in the Major Arena Soccer League with Barracudas FC.
Striker: Andre-Pierre Gignac
Speaking of some of the best foreign strikers to play in the Liga MX we have Andre-Pierre Gignac. The French striker has lifted three Liga MX titles with Tigres UANL and has scored 18 career Liga MX playoff goals. Mancilla was part of the early days of this Tigres' dynasty that won the Apertura 2011 title but he did come back and play with Gignac in the Clausura 2016. "Mancigol" was already way past his prime and failed to score in 81 minutes of play in the Clausura 2016. Tigres UANL made it to the playoffs in the Clausura 2016 but were knocked out by rivals Monterrey in the quarterfinals. Gignac just helped Tigres UANL get its sixth league title and seems to still have some successful seasons ahead of him.