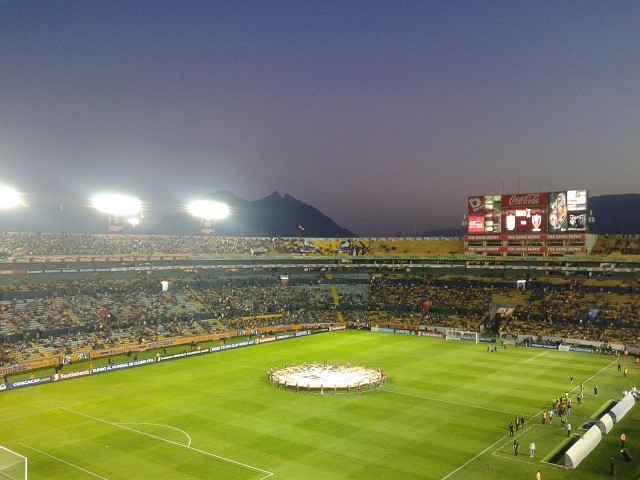 The Liga MX Apertura 2017 is in its final phase as Monterrey and Tigres UANL will dispute the battle for a city and the Apertura 2017 championship. Monterrey finished first in the regular season and Tigres UANL finished second, there is no doubt that these were the two best teams in the league with the most talented squads. Here is what a dream starting eleven with a mix of players from both teams would look like ahead of the Apertura 2017 final.
GK: Nahuel Guzman
Both Hugo Gonzalez and Nahuel Guzman had comparable stats this season as Guzman had 59 saves with seven clean sheets while Hugo Gonzalez had 54 saves with eight clean sheets. The key difference between the two keepers is that Guzman is a difference maker.
Unfortunately, it is not always in a positive way as the Argentine has had his blunders in the past. Still, the Argentine can be the best goalkeeper in the Liga MX on his day and has a plethora of experience to offer. The 31-year-old will be playing in his fifth Liga MX final against Monterrey and has also played in a Copa Libertadores final, back in 2015 against River Plate.
RB: John Stefan Medina
Stefan Medina has been one of the more consistent defenders in the Liga MX Apertura 2017 this season and a key part of this Rayados' team. Medina has averaged around 1.5 interceptions per game and upwards of two tackles and clearances per game. Incredibly the 25-year-old has been extremely precise as he has no errors that have led to a goal this season. The Colombian defender has been called up on several occasions this year to the Colombian national team and is one of the more solid fullbacks in the Liga MX.
CB: Juninho
Anselmo Vendrechovski Junior brings much more to the table than just his defensive abilities and his average of more than three clearances per game. The Brazilian is the leader of Tigres UANL and has very good offensive capabilities as he excels on set pieces. Juninho had three goals and an 86.5 percent pass accuracy throughout the Apertura 2017 regular season.
The Brazilian skipper can be an aerial threat but also excels at taking penalties and free kicks from long range. The 35-year-old is now an icon for Tigres' fans as he has been the leader on the team for several years and will now go for his fourth Liga MX title with the Nuevo Leon team.
CB: Jose Maria Basanta
Basanta is also an icon in Nuevo Leon but for Monterrey has he was part of the team's dynasty years with Mexican manager Victor Manuel Vucetich and Chilean forward Humberto Suazo. The Argentine also offers immense leadership abilities and a strong physical presence standing in at 6-foot-2. The 33-year-old displayed his precise passing ability this season with a pass accuracy around the 70-percent mark and an assist as well. "Chema" was part of two Liga MX titles and three CONCACAF Champions League titles with Los Rayados and will look to continue to add to this success.
LB: Jorge Torres Nilo
Leonel Vangioni had a solid first Liga MX season with Monterrey but it is unclear if he will prove to be as consistent as Jorge Torres Nilo has been. The Mexican fullback is just 29-years-old but has already been a consistent defender in Mexico's top tier league for nearly a decade. The Tijuana native can be decent at going forward but excels defensively with a good physical presence at 5-foot-11.
Torres Nilo averaged over two clearances, tackles and interceptions per game this season and had no errors that led to a goal. The Mexican defender has been a consistent player for Tigres UANL in these dynasty years and will look to keep on adding titles.
CM: Carlos Sanchez
With players like Rogelio Funes Mori, Aviles Hurtado and Dorlan Pabon on Monterrey sometimes Sanchez's efforts go unnoticed. The Uruguayan midfielder has been a vital factor to Rayados' success with two goals and five assists in the regular season and two more goals in the playoffs. Sanchez can play in the midfield or on the wings but provides an explosive spark for Antonio Mohamed wherever he does play. The Uruguayan international has played in some of the biggest stages with River Plate in his career and will now hope to lift his first title with Monterrey.
CM: Jesus Duenas
Since the departure of Guido Pizarro from Tigres UANL, Jesus Duenas has really had to step up in that defensive midfield role for Ricardo Ferretti.
The Mexican international does have decent defensive capabilities but also excels in generating play as he finished the Apertura regular season with a goal, an 85.6 pass accuracy and four assists. Duenas has been very solid in the playoffs so far and has a lot of experience as he has already been part of three Liga MX championships with Tigres.
CM: Jonathan Gonzalez
The 18-year-old has proven to be Monterrey's revelation this season as he has been stellar in the heart of the pitch. Gonzalez started 13 games in the regular season and beat out Jesus Molina for playing time on Antonio Mohamed's team. The young California native has been key to Los Rayados' Success as he has solid recovering abilities and great distribution skills as well. Gonzalez's efforts are overlooked or unnoticed with so many stars around him but he is on his way to being a very solid player himself.
FW: Rogelio Funes Mori
The attack was the hardest to narrow down on this team with so many potent options from both teams. One player that has to be part of it is Rogelio Funes Mori, who had a decent regular season but is now tearing apart the Apertura 2017 playoffs. The Argentine had six goals and two assists throughout the regular campaign and has incredibly now matched his regular season goalscoring mark in the Liguilla. Funes Mori has six goals in the playoffs leading up to the final, three of which came from a hattrick against Monarcas Morelia in the second leg of the semifinals.
The 26-year-old has a great physical presence standing in at 6-foot-1, is fairly quick for his size, can be a good at distributing the ball and has a deadly finishing ability. Funes Mori is expected to make some sort of impact in this upcoming Clasico Regio final after such a stellar performance in the playoffs so far.
FW: Andre-Pierre Gignac
Yes, the French striker is not having the best season ever and arguably players like Enner Valencia, Eduardo Vargas and Dorlan Pabon deserve to slot on this team instead. Gignac only scored four goals in the Apertura 2017 regular season and only has two goals in the playoffs so far but he is still the player any Liga MX manager would want in a championship match. The European forward is still arguably the most talented and most imposing player in Mexico's top-flight league and will surely make some sort of impact in this upcoming Apertura 2017 final. The former Marseille striker is an impact player and a complete forward and must feature in this team and in an ideal starting XI of the league in general.
FW: Aviles Hurtado
Aviles Hurtado has arguably been the best player in Liga MX in 2017 with Club Tijuana and now with Monterrey. The Colombian forward finally received his much-deserved call to the Colombian national team and has been in the form of his life with Los Rayados in this Apertura. Hurtado finished the regular season as the joint-top scorer with Leon's Mauro Boselli and also had three assists to go along with that mark. The Colombian winger has three goals in these playoffs and should be an instrumental player in the final. The 30-year-old has a mix of physical ability, technical ability and pace that makes him one of the best players in the Liga MX and one of the most dangerous forwards in the American continent.