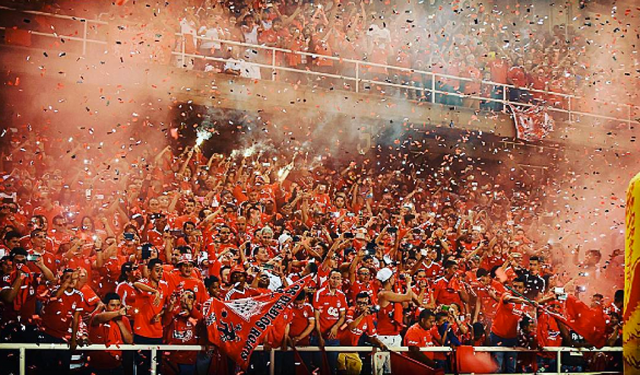 This Thursday the much-anticipated Liga Aguila semifinal game between America de Cali and Millonarios will start with the first leg at the Estadio Olimpico Pascual Guerrero. The match is a Clasico in Colombian football and it should be a very intense and exciting match in Cali this Thursday.
America de Cali pulled off perhaps the biggest upset in the quarterfinals of the Liga Aguila II. Los Diablos Rojos eliminated Junior FC via a penalty shootout that ended 4-2. The first leg between the two teams ended in a scoreless draw in Cali, then in Barranquilla, the teams tied 2-2 before going to a penalty shootout to decide the quarterfinal matchup. Both goals in the game for America came from set pieces, one off a potent, direct free kick by fullback Juan Angulo that found the back of the net and another off a free kick that found the head of centre-back Eder Castaneda and the back of Junior's net. Junior was one of the favorites to win it all, having finished in first and with players like Teofilo Gutierrez and Yimmi Chara.
Los Escarlatas have an impressive undefeated streak of 11 games since the arrival of Uruguayan manager Jorge Da Silva and will look to keep that going in this semifinal fixture.
Millonarios have a 10 game undefeated streak themselves and do arguably have the stronger squad. Los Embajadores defeated La Equidad in the quarterfinals of the competition by a global score of 3-2 but defensive midfielder Jhon Duque did receive a red card in the second leg that will keep him out of this game. Henry Rojas could be the likely replacement in the midfield but the team from Bogota will be missing a key element without Duque. The potent attack of David Silva, Duvier Riascos, Harold Mosquera and Ayron Del Valle is menacing as the three combined for 21 goals in the regular season.
Silva is the creator, Del Valle is the biggest threat as he scored 10 goals in the regular season, Mosquera is quick and offers flair while Riascos can offer experience and still be a dangerous player. Los Embajadores have the historical advantage as they have won 97 games of the 236 played between the two teams but this should be a tough game for them away from Bogota.