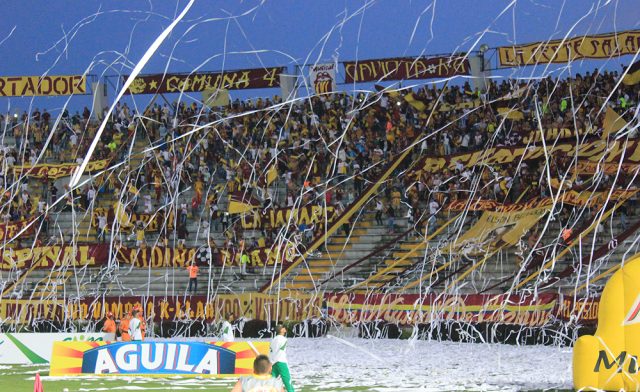 This Wednesday, December 6, 2017 (5:00 PM Pacific) Deportes Tolima will host Independiente Santa Fe for the first leg of the Liga Aguila II semifinal. Both teams had distinct roads to this semifinal but should provide a very exciting match at the Estadio Manuel Murillo Toro.
Deportes Tolima pulled off the upset in the 2017 Liga Aguila quarterfinals by defeating giants Atletico Nacional. El Vinotinto y Oro tied 2-2 with Atletico Nacional in the quarterfinals and went on to win a penalty shootout 3-1 with a heroic effort by Paraguayan goalkeeper Joel Silva. It is even more impressive that Tolima managed to get past Los Verdolagas without two of its best players in Santiago Montoya and Angelo Rodriguez in that second leg.
Manager Alberto Gamero will count with both Montoya and Rodriguez for this game and that should be a huge boost for the team going forward. Rodriguez scored nine goals throughout the season and forms a dangerous partnership with Marco Perez, who has eight goals.
Montoya is the main playmaker on the team and was not present in either game against Atletico Nacional, his presence should help generate more scoring opportunities. Gamero will not count with defensive midfielder Rafael Carrascal as he picked up a red card in the second leg against Atletico Nacional.
The most likely candidate to replace Carrascal is Luis Alejandro Paz but Alberto Gamero could tinker with his lineup and go for a more offensive option as well. Tolima will need to use this home-field advantage in the first leg as Los Pijaos are undefeated at home in this 2017 Liga Aguila II.
Independiente Santa Fe is coming off a very impressive 4-1 win against Jaguares de Cordoba in the quarterfinals of the tournament. An interesting thing to note is that the team's top scorer Wilson Morelo scored as did defender Hector Urrego but the other two goals in that game came off the bench. The goals came very late on, and 36-year-old veteran Omar Sebastian Perez and fullback Juan David Valencia scored off the bench. Manager Gregorio Perez counts with a very solid team that achieved a second-place finish in the regular season.
The Uruguayan manager has an exciting attack that features players like Wilson Morelo, Anderson Plata and John Pajoy and a rigid defense led by Colombian international William Tesillo. Gregorio Perez also knows his opponent quite well as he managed Deportes Tolima earlier in the year. This semifinal clash in the 2017 Liga Aguila II should be very entertaining and it is almost impossible to see which team will take the advantage heading into the second leg.