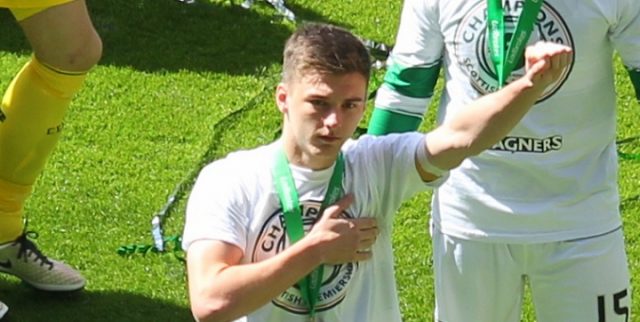 Upon putting pen to paper to ink a new 6-year deal at Celtic, an euphoric 20-year-old left-back Kieran Tierney told the press: "I had no doubts about signing the deal. I wish it was longer.
"I'm buzzing, everyone is buzzing. It's a great feeling, the same as it was when I signed last year.
"Could I spend my career here? There's every chance – I hope so. I have been here 13 years already and that is a long time.
"We will see what happens. I hope I can stay here as long as possible. I'm in no rush to leave. Everybody can see that from signing a long-term deal. I'm very happy at Celtic. It is football, you never know where a career is going to take you. But I'm happy now."
The kid obviously has Celtic running in his blood having spent his entire playing career since he was 7 at Parkhead.
Choosing to renew his contract says a lot of Tierney's love and passion for the Hoops, but could he spend his whole career at the club? No way!
Apart from the fact that it won't take long before Celtic start nursing the ambitions of cashing in on him, if they haven't started already, it's only right for such a highly-rated player to dream bigger than he currently does going forward.
Moving to a top Premier League side is 100% inevitable for the left-back.
Celtic are light years away from becoming Champions League contenders once again, and his quality means Tierney will start dreaming of lifting the Big Old Ears someday.
Only way that will ever happen is if he leaves for the English topflight while he still can.
Many fans wish he could stay forever just like he also does, but in the real world, a player of such immense talents always move on.
Perhaps, he could eventually return to Parkhead to draw the curtain on his career after spending years away, and that itself will be much appreciated by fans.
However, seeing Tierney remaining at Celtic beyond 2020 is impossible.