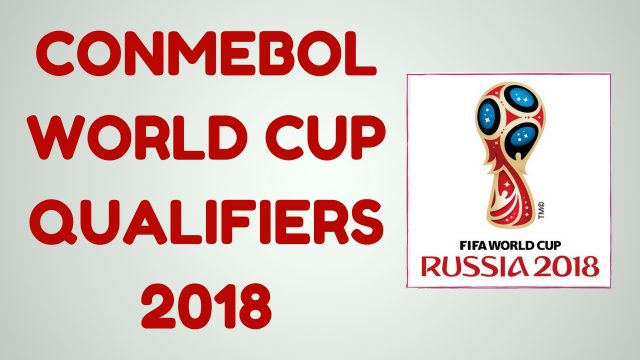 This Tuesday the CONMEBOL 2018 FIFA World Cup qualifiers resumed play as the 16th match-day of the competition went underway. The CONMEBOL has been the most competitive region to get a World Cup spot out of as eight teams are in the fight for three direct World Cup spots and one spot in the inter-confederation play-offs. There were several surprises and thrilling encounters in the five games played this match-day, here is a quick recap of each game.
Posiciones en las #EliminatoriasCONMEBOL tras la decimosexta fecha. pic.twitter.com/KeIoWSSMUY

— CONMEBOL.com (@CONMEBOL) September 6, 2017
Bolivia Continues Home Dominance by Upsetting Chile
Bolivia has not been a very impressive team in these CONMEBOL World Cup qualifiers, currently eliminated for a spot in the next World Cup, sitting in ninth with 13 points. However, if La Verde could have played all its games at the Estadio Hernando Siles it might still be in contention in this competition. Bolivia achieved the shocking 1-0 win against Chile in this 16th match-day with a penalty goal by Juan Carlos Arce.
Other surprising results for Bolivia at home include a 2-0 win against Argentina, a 1-0 win against Paraguay and a 2-2 draw against Ecuador. While this was a massive victory for the home side, the loss was catastrophic for Chile who is now sixth with 23 points.
Bolivia derrotó 1-0 a Chile en La Paz por la antepenúltima fecha de las #EliminatoriasCONMEBOL pic.twitter.com/2vbrCYxHLM

— CONMEBOL.com (@CONMEBOL) September 5, 2017
La Roja has now lost two consecutive games and both have been upsets, this loss against Bolivia and a 3-0 loss against Paraguay on Matchday 15. Only a point separates Chile from fourth-place Peru but the current Copa America winners would be sitting more comfortably in second with 29 points if it had won these last two games.
Former Chelsea Teammates Score a Goal Each In 1-1 Draw
One of the most anticipated games for this matchday was the clash between Colombia and Brazil in Barranquilla. Both teams were going into the game undefeated in their last three and surely one had to end this streak, well no. The game ended in an intense 1-1 draw with former Chelsea teammates Radamel Falcao and Willian scoring the goals for their respective countries.
Colombia frena a Brasil con empate 1-1 en Barranquilla. #EliminatoriasCONMEBOL pic.twitter.com/GoBBduVb0e

— CONMEBOL.com (@CONMEBOL) September 5, 2017
Both goals were spectacular as Falcao did what he does best and provided an amazing header while Willian pinged an outside of the box shot with massive power into the top right-hand corner of the net. The score was very reflective of what was seen on the pitch as possession was close between the two teams and both teams also had several scoring chances. With the result, Brazil remained top of the table with 37 points and Colombia moved to third with 26 points.
Peru Earns Historic First Win in Ecuador
One of the best games in this round of matches in the CONMEBOL World Cup qualifiers was the match between Ecuador and Peru in Quito. Ecuador were the favorites going into the game with the home-field advantage as Peru had never won a game at Estadio Olimpico Atahualpa.
Peru was going into this game off a 2-1 win against Bolivia while Ecuador was coming off a 2-0 defeat against Brazil. Despite this, both teams seemed to be heavily motivated to get the three points and provided a thrilling clash. There was no clear winner for most of the encounter as both teams hunted for that first goal up until the 73rd minute. Edison Flores opened the score in Quito and gave Peru the 1-0 lead after that La Bicolor was in control of the game and scored the second goal three minutes after the first.
¡Triunfo histórico de Perú en Quito! Venció 2-1 a Ecuador y pelea la clasificación a #Rusia2018.#EliminatoriasCONMEBOL pic.twitter.com/QgwTDfXIdk

— CONMEBOL.com (@CONMEBOL) September 5, 2017
Paolo Hurtado made it 2-0 in the 76th minute and it became very evident that Peru was walking away with a historic victory in Ecuador. The game did shift tides with a red card to Peru's Christian Ramos that awarded a penalty to Ecuador, Enner Valencia calmly took the penalty and made it a 2-1 game. After that, the game reached its last few intense moments, while the Ecuadorians resulted to arguing with the ref and trying a failed fabrication of a penalty. Peru kept its calm and secured the historic three points that put La Bicolor in fourth with 24 points and kept Ecuador in eight with 20 points.
Argentina Disappoints Again and Now Has Immense Pressure
Argentina has been the most disappointing team in these CONMEBOL qualifiers, with losses against teams like Bolivia, Paraguay and Ecuador and ties against teams like Peru and Venezuela. La Albiceleste were looking for redemption after a 2-2 draw against Venezuela the last time the two teams met but did not find it here. The match ended in a 1-1 result with an own goal by Venezuela's Rolf Feltscher and a goal by Jhon Murillo.
Argentina y Venezuela empataron 1-1 en Buenos Aires #EliminatoriasCONMEBOL pic.twitter.com/MZ29Ccyi5K

— CONMEBOL.com (@CONMEBOL) September 6, 2017
Argentina was the better team on the night with a massive 76-percent possession and 21 shots, credit must be given to Venezuela's goalkeeper Wuilkner Fariñez who pulled off six saves. Argentina suffered from an ongoing problem that has even cost the team championships, the ability to finish in front of net. This consistent problem may now cost Argentina a spot in the next World Cup as La Albiceleste has now fallen to fifth with 24 points.
Uruguay Defeats Paraguay with Help from Unexpected Heroes
One of the closest encounters that was expected to be seen this Tuesday was the duel between Paraguay and Uruguay in Asuncion, Paraguay. Los Charruas were coming off a scoreless draw against Argentina while Los Guaranies were coming from a huge 3-0 away win against Chile.
Uruguay venció a Paraguay de visita 2-1 y da un paso gigante a #Rusia2018.#EliminatoriasCONMEBOL pic.twitter.com/pb23FyIE1L

— CONMEBOL.com (@CONMEBOL) September 6, 2017
Both teams were pressing and had chances throughout the encounter but the first goal of the game did not come until the 76th minute of the match. 19-year-old Federico Valverde was making his debut for La Celeste and made it a memorable one with an outside of the box shot that ended in the back of the net and gave Uruguay a 1-0 lead. Minutes later an own goal by Paraguay's Gustavo Gomez gave Uruguay the 2-0 lead that secured the three points from the game.
Angel Romero did pull one back for La Albirroja in the dying minutes of the game but it was much too late as Uruguay took home the 2-1 victory. The win now landed Los Charruas in second with 27 points and deflated Paraguay's run as Los Guaranies sit in seventh with 21 points.