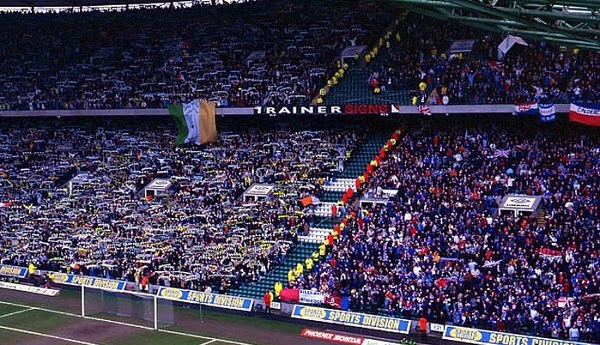 Rangers out-of-favour striker Joe Dodoo immediately hit the ground running on his debut for Charlton Athletic at the weekend, coming off the bench to help the League One outfit to a 4-3 win over Oldham Athletic with a goal.
In doing so, the 22-year-old, who could only score 5 times in 25 appearances for Rangers last term, continued his habit of getting off the mark on his debuts with a goal.
At Leicester City, Dodoo made a dream senior debut by grabbing an hat-trick for Claudio Ranieri's man in the EFL Cup against Bury.
Months later, he marked his debut for Bury with the only goal in a 1-0 win over Burton Albion, while he also got a debut goal in a 3-0 win over East Stirling last summer in the Rangers' shirt.
Dodoo is set to remain on loan with Charlton until January after completing a transfer deadline day switch.
His new boss Karl Robinson was full of his praises after the weekend's match, enthusing: "He went up there (Rangers) as a bit of a teen sensation and it didn't really materialise.
"We know that Joe is a top player. He's still miles off, you can see he doesn't get in shape yet, he plays off the cuff but hopefully he can grow with this team.
"We're young, we're energetic and hopefully he's another one of them. To get a goal on your debut is great for him."
Twitter was also awash with plaudits from Charlton's fans, and Rangers faithful might be left wondering if Dodoo would have been able to deliver the goods if manager Pedro Caixinha had given him the chance.
Here are some reactions off the social media network.
You won't find a better suggestion for Joe Dodoo.

Class! #cafc pic.twitter.com/0FhTrKUJDc

— Lew (@LewisH92) September 3, 2017
@36Dodoo vs Oldham Athletic (02/09/17). Debut goal after signing on loan on #DeadlineDay. Boy has pace to burn!🔥 #cafc pic.twitter.com/xEmkhYJ1jX

— JFC's Magic. (@ClassyCaskey) September 3, 2017
Dodoo on debut:@LCFC : ⚽⚽⚽@buryfcofficial : ⚽@RangersFC : ⚽

Was it ever in any doubt#cafc : ⚽

👏@36Dodoo https://t.co/herPBwvuQP pic.twitter.com/LUAR9rkvpP

— Charlton Athletic FC (@CAFCofficial) September 3, 2017
AIN'T NOBODY LIKE JOE DODOO
MAKES ME HAPPY
MAKES ME FEEL THIS WAY

— Oliver (@HashtagOliverK) September 2, 2017
Joe Dodoo is the 80th Addick to score on his debut and only the 8th to do so from the subs bench @CAFCofficial #cafc @36Dodoo

— CharltonAthMuseum (@CHATHMuseum) September 2, 2017
Joe Dodoo scores for #CAFC#Rangers fans right now… pic.twitter.com/InicyMvRnX

— BetVictor (@BetVictor) September 2, 2017